A webpage about the 11th National Party Congress was officially launched on August 18 and is available at http://daihoi11.dangcongsan.vn.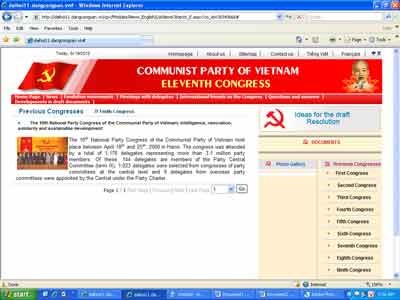 The website
The web page will provide information on Party congresses at all levels before the forthcoming National Party Congress. It will also raise people's awareness of the importance of the congress.
The webpage, which is administered by the Communist Party of Vietnam's website, is expected to encourage the national emulation campaign and increase solidarity and unity amongst Party.
It will also help to build up the people's trust in the Party leadership and the country's renewal process, which was initiated and directed by the Party.
The page will run until May, 2011.