In the process of integration and development, Viet Nam is in serious shortage of qualified and highly technical skilled human resources. Every year, dozens of thousands of Vietnamese people come home from working abroad. They are very skilled and have lots of experience working in industrial and modern environment. However, are they reemployed in the country? How are their technical abilities and professional skills made use of?
Only part of the target met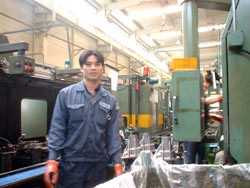 A Vietnamese working at a car part factory of Kook Je Precision Industrial Co. in the RoK.
After many years of participating in the labor export field in response to the market demand, Viet Nam has sent over 420,000 laborers to about 50 countries and territories to work. Viet Nam sends, on average, 60,000-70,000 laborers a year abroad to work, two-thirds of whom work in factories of various industrial sectors.
Because salaries earning from working abroad are much higher than in the country, laborers send about US$1.5 billion per year to their family in Viet Nam. It was US$1.6 billion in 2005.
How are foreign currency earnings from this new industry used by laborers and their families? How many returning laborers use their working experiences and hard earned money to start their own business, or a farm?
According to the Department for Overseas Labor Administration and Management, localities have not yet had any statistics and reports on how former overseas laborers resettle back in their localities. However, in reality, beside priorities given to improving lives, building houses, buying land, household appliances and furniture, only some laborers use their money for investment, self-employment, or operating a business or farm.
Many laborers become penniless after a few years of returning home because they can not find a job in the country, and they are not advised by local authorities and organizations on using their money effectively.
In the past, Viet Nam was poor with the unemployment rate being high, so the country just focused on opening the labor export market and sending lots of laborers abroad, said labor specialists.
Therefore, only part of the target is met, which is creating jobs, increasing income, giving life changing opportunities to laborers, and eliminating poverty quickly. Menanwhile, the bigger, long-term goal, which is not merely money - income, has yet to be reached.
Working in multinational and modern environment, Vietnamese laborers have matured very fast. They are trained for industrial working style, working skills and discipline.
Most of labors working in Japan and the Republic of Korea (RoK) are appreciated highly by their employers for their diligence, intelligence and abilities to quickly learn new skills and techniques. Many of them, who are good in foreign languages, dynamic and diligent, are promoted to factory managers, supervisors or team leaders.
After three years of working abroad, apart from the accumulation of money and better life experience, they bring home technical skills and technological know-how of various industries such as engineering, manufacture, electronics and automobile production. These industries are developing in Viet Nam and in need of highly skilled laborers.
Viet Nam lacks strategies for reusing skilled laborers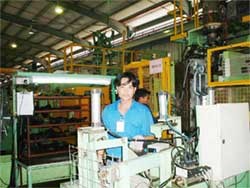 A Vietnamese working at an engineering factory in Malaysia.
Being in need of development and expansion of foreign and domestic investment, many enterprises and industrial parks in the country are looking earnestly for highly technical skilled laborers. In order to train a skilled laborer in the country, the Vietnamese state and laborer have to invest a good amount of money.
However, in many recent years, lots of localities have not paid attention to or had strategies of reusing laborers who have worked abroad though they complained about the shortage of skilled laborers.
Speaking about the post-labor export issue, Mr. Nguyen Thanh Hoa, Director of the Department for Overseas Labor Administration and Management, said, "Except some laborers who have re-registered to work abroad, most have not integrated into the domestic labor market to make use of their technical abilities, professional skills and work experience."
If local authorities and organizations care to provide advice and guidance to laborers on how to invest their money effectively or find them a suitable job for their skills, they might make valuable contributions to the local economic-socio development.
Two or three decades ago, the RoK considered labor exports a strategy of bringing jobs and income to people when its economy was being developed.
Besides accumulating foreign currency to enrich the country, Korean laborers put up targets of learning management and job skills, acquiring high technical and scientific qualifications of heavy industries, which could be applied for the development of the national economy.
With such a far-sighted policy, lots of Korean laborers became owners of factories or small and medium businesses, which are presently the RoK's key economic sectors, after they returned from working abroad. They helped to turn the national per capita income of US$80 (three decades ago) to US$17,000.

Related articles:
EPS of RoK Facilitates Workers' Lives
First Korean Language Test in Viet Nam
Labor Export Improves Laborers' Lives
"Risk Assistance Fund for Labor Exports" Should Be Established In Viet Nam
Viet Nam Lacks Skilled Laborers For Export