The Resolution of the Congress of the Ho Chi Minh City Party Committee says administrative reform is one of the five most important tasks.

Difficult regulations

In Cu Chi District on the outskirts of Ho Chi Minh City, up to 80% of the rural residents have built their houses not subject to the current regulations. Mr. Nguyen Van Sum said they had to do this because the regulations are so strict.
Ms. Nguyen Thi Kim Quy, a resident in District 10, said, "The regulations have become stricter. Previously, my loan application just needed the ward officials' approval. Now, I must bring the dossier to the District's officials and pay a fee of VND60,000. I need to borrow a few million dong and must pay so high a fee."
What needs reform?             
"The State administrative agencies must serve the public. If the procedures are complicated, they must be simplified," said lawyer Nguyen Dang Trung, head of the Ho Chi Minh City Bar. In his opinion, teams of officials specialized in helping citizens complete administrative procedures – like the team in Can Gio District – are useful, but the procedures themselves have not been simplified.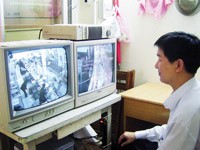 A District 1 official supervises a public service office in the district (Photo: SGGP)
The Ho Chi Minh City Service of Natural Resources and Environment has shortened the time for issues related to land use rights from two years down to 20-40 days. This is considerable progress, but citizens must still go to different offices to get their job done. The procedures can be addressed with support of computers and the local area networks. The ideal concept is that people need to go to just one office.
Lawyer Trung said it is necessary to solve the problem radically. This requires a strategy for administrative reform. For example, the city authority has decentralized, giving more authority to local officials to solve administrative issues. In the coming time, non-State notary offices will be allowed to open, taking away the pressure on the State ones. However, they will have to deal with the overstaff problems because the Government wants efficient offices.
New things in need                              
Another problem is that the language used in the dossiers is hard to understand. Besides, forms for citizens to fill in should not be changed continually like now because it is costly, said Mr. Pham Van Ich, a resident in District 5.
Mr. Nguyen Van Thanh in District 10 suggested that in administrative reform, it is advisable to reduce the amount of paper certified by the ward or commune authorities to save more time and work.
Related Articles:
Administrative Procedures Simpler in HCM City
Related links:
Public Administration Reform - Ministry Of Home Affairs of The Socialist Republic of Viet Nam