After the victory at Dien Bien Phu, soldiers traded their guns for shovels to rebuild the city and till the fields.
Fifty-one years have passed since Colonel Nong Van Khau returned to the old battlefield where he had shed his own blood and witnessed a thousand other comrades sacrifice their lives for the great victory of the Vietnamese people at Dien Bien Phu.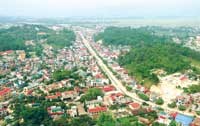 An overview of Dien Bien Phu City.
Half-a-century can make a lifetime of difference.
Khau, born in northern province of Cao Bang, served as fire commander of a machine-gun in the 174th Regiment, 316th Brigade, in 1954. He fought and was wounded on A1 hill.
Early in 1958, four years after the victory, President Ho Chi Minh, General Vo Nguyen Giap and other State leaders encouraged soldiers who had fought in Dien Bien Phu to return to the old battlefield. "We have liberated the North-western region, but we need to build it up for our descendants," leaders said.
Some refused to return because they recognised it would be hard. Several months later, around two thousand soldiers from the 316th brigade, including Khau, went back to Dien Bien Phu.
The battle had been won, but the struggle continued. The returning soldiers carried rice, water and personal belongings on their shoulders as they walked over old paths and old names. But this time they travelled during the day, not at night as they had done before.
Khau's thoughts went back to the days four years earlier. Many of his comrades had made the ultimate sacrifice of their lives, many others were badly wounded and not many were really happy to return to the old battlefield wild mountains and through severe climatic conditions.
But Dien Bien Phu lay ahead and that was where they were headed.
Hardship
"In 1958, Dien Bien Phu was a huge forest without paths," remembers Nguyen Manh Hung, an officer from the 316th Brigade. Hung went on to become the construction bureau chief, then vice director of the Dien Bien Army Farm.
"At first, we made something like a master plan for our farm. We allocated land for each unit and asked them to clear mines, grenades, bombs and other weapons. After that, houses and roads were built. Day after day, soldiers worked hard and made 1,000ha of fallow hills ready for planting coffee and corn."
Tran Lang, former chief of an anti aircraft company, and chairman of the farm, clearly remembers the first resolution to build Dien Bien by setting a 500ha rice cultivation goal for the first year.
At that time, everybody working in the fields still wore uniforms and obeyed army discipline, but guns were replaced by hoes and shovels. However, no one knew much about cultivation techniques. Lang had to ask for help from his senior officer and finally, a book on agricultural techniques published in the 1940s was sent to the soldiers.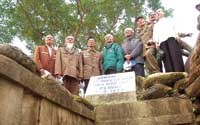 Veterans return to De Castries' bunker
General Vo Nguyen Giap visited and encouraged the soldiers: "We can see A1 Hill, where thousands of our comrades laid down their lives. We should make their deaths worthwhile."
In fact, one third of the members of many units were discouraged. They didn't go to work and complained they were sick. Hot and dry westerly winds from Laos, mosquitoes, bees, floods, hunger and homesickness, all of this combined to dishearten and break the soldiers' spirits.
"We had to encourage each other; life was really hard but we were still alive. We were soldiers and we shouldn't require so much," says Khau.
For Lang, keeping his soldiers in good spirits was the first step. His duty was also to learn how to cultivate successfully. The book on farming technique was carefully studied.
"We had to learn everything, from cultivation to tool manufacturing, operating tractors and repairing machines from other farms," says Lang.
Besides rice, cattle pigs, cows and chickens, along with fruit trees from other provinces were brought into Dien Bien. "If we didn't work, we would suffer hunger. At that time, there were no weekends," Khau says.
Civilian life
Most of the existing Muong Thanh field, with a total area of 4,000ha, was originally cultivated by soldiers. From 1959 onwards, families of soldiers started moving to the new land. Women came and earned income making tofu and selling the vegetables they cultivated. Shortly afterwards, co-operatives were established to make hats and breed cattle. At the end of that year, a huge number of conscripted labourers, both boys and girls, came to Dien Bien. Many weddings between soldiers and conscripted girls were organised.
Former outstanding farming member Hoang Van Bay had a chance to visit his hometown early in 1959 because of his excellent work. He married his neighbour, Hoang Thi Tho and a year later took her to settle down in Dien Bien, where they still live.
"At first, I just wanted to go back home. We lived in half a house and ate at a collective canteen until 1965 when America bombed Dien Bien," Tho says.
"Our lives were very hard but people were concerned for each other," she added.
In 1961, the army farm was transfered into a civilian one. Most soldiers remember the unforgettable day clearly.
"Taking the star out of our hats and pulling army ranks off of our shoulders, all of us cried because we'd lost something very important," Khau said. "After a while, we talked and recognised everything was the same and we must continue to live."
In 1982, the farm provided each household 400sq.m of land to build houses. Most members from the first farming families still live here and many villagers still keep their old army names, like C4, C5, C12 and C13 (C means company).
Irrigation system
Muong Thanh was known as the biggest field in the North-western region, but in 1960 the 2,000ha field only cultivated one crop of 600kg rice per hectare.
Now, Dien Bien's rice is considered some of the best, and the fields yield up to 10 tonnes per hectare. This result was achieved because of the Nam Rom irrigation canal system.
"The Nam Rom work began in 1963 and it was the biggest irrigation project at that time in the north," says Nguyen Xuan Khoi, former leader of the conscripted labourers.
Khoi led 2,000 conscripted labourers, 40 per cent of the women. The huge Dien Bien valley was surrounded by one main canal. The main dike took water from the Nam Rom River and released it into canals on the right and left for a total distance of 35km. Hundreds of kilometres of small canals were then dug to make a complete system.
"The irrigation system looked like the military trench system we dug to besiege the French in 1954," Khau recalls.
"At that time, the spirit everybody showed was wonderful. We overcame every hardship to finish our work. We often faced hunger and rice was replaced with corn, sometimes for four continuous months," says Khoi.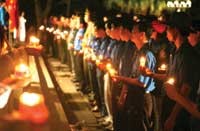 More than 500 cadres, young people and students nationwide gathered at A1 Hill Cemetery in Dien Bien Province to light candles for comrades who laid down their lives. The celebration marked the 55th anniversary of the Dien Bien Phu Victory, on May 7, and the 100th anniversary of Dien Bien Province.
Everything was done using manual labour without machines but the work was of very high quality. In 1969, the irrigation system was completed. During construction, 18 people had died.
Dien Bien today
Dien Bien Phu City was set up in the centre of the former Dien Bien Phu fortress. The main avenue May 7 runs through the middle of historic A1, C1, C2, D, and E hills, near De Castries' bunker and the Muong Thanh airport.
The city is spread over 6,000ha and has a population of 40,000.
"We plan to develop Dien Bien Phu City as a tourist, cultural, historical and ecological site. The city will expand to meet development demands but still retain the cultural characteristics of ethnic minorities as well as historical places," said Dinh Tien Dung, chairman of the Dien Bien province People's Committee.
"We will try to boost economic activities with China's Yunnan Province and the northern provinces of Laos through our border gates. Through these developments, we hope Dien Bien Phu City will soon become the hub of the North-western region," he added.
Today, it's not strange that tourists enjoy fresh fruits from the south or buy imported products in the city thanks to improved transportation facilities. The ongoing upgrade of National Highway No 6 allows tourists to make the 8-10 hour trip from Ha Noi to Dien Bien with greater ease than before. Every week, national carrier Viet Nam Airlines operates 11 flights to the city.
"The wild land has a new shape that I couldn't imagine when I first came here 50 years ago. I'm happy to see my city grow," says 79-year-old veteran Pham Nhat Ho.
For Nguyen Van Thoai, a fashion shop owner, the city started changing 10 years ago.
"The government offices, shops and residents' houses began to mushroom. Roads and infrastructure, especially for rural areas, were sharply upgraded," he said.
Thoai also noted that the number of motorcycles has increased significantly and that many young people from the Hong (Red) River delta have chosen Dien Bien Phu as their new home in recent years.
Lo Thi Phuong, a 21-year-old Thai girl who graduated with a diploma in tourism, says the city has changed so much and now there are many opportunities for young people like her.
Last year, Dien Bien welcomed 210,000 visitors including 30,000 foreign tourists.