After earlier disagreement, law-makers yesterday decided that whistleblowers should be protected in the new draft Law on Denunciation.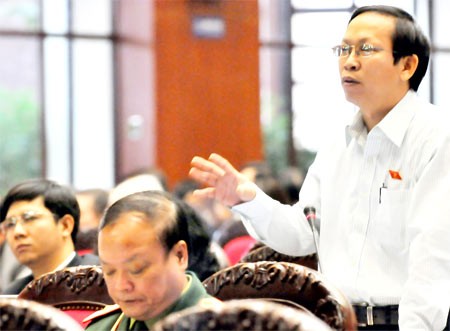 Deputy Nguyen Dinh Xuan speaks at the National Assembly sitting on November 18 (Photo: SGGP)
Discussion also centered around whether those secretly informing on others should not only be forced to divulge personal details, such as name and addresses, but also to supply documents to back up their statements.
According to an appraisal report from the National Assembly's Legal Committee, anonymous denunciations are often made during elections, during appointments and other sensitive times.
While it was argued that most who complain have public interests at heart, it was admitted that there were people who made spurious claims that caused discord and wasted the time and money of authorized bodies.
However, some deputies said whistle blowers preferred to remain anonymous because there was limited protection for them.
They said that in most cases, denunciations centered around alleged legal infringements by officials at their workplace.
Deputy Tran Thi Nga from central Phu Yen Province said denunciators were in a disadvantageous position and that their information should be provided anonymously, but with addresses supplied. She said that this should be stipulated by law.
Deputy Ngo Minh Hong from HCMC said that receiving letters of denunciation was a way of obtaining information, so it did not matter whether if they were anonymous or not.
Deputy Nguyen Van Kien from southern Tien Giang province agreed, saying that anonymous letters should be accepted and used as a reference if needed. Others said denunciation was a citizen's right and that they could choose whatever way they chose to provide information.
However, law-makers unanimously agreed that there should be strict punishments for those who maliciously denounced people.
They also agreed that the present lack of protection for whistle blowers prevented many people from stepping forward to lodge complaints.
Deputy Tran Van Kiet from southern Vinh Long Province said while informers were brave, they were not rewarded properly.
"I suggest the NA have a mechanism to protect denunciators and reward them so as to encourage the denunciation of malpractice," he said. The law's compiling board it would decide who should be protected and to what extent. They also said they would consider the prospect of reward policies.
Measurement bill
Yesterday a majority of the National Assembly members agreed on the necessity of introducing the Weights and Measures Law to help strengthen management capacity on measurement activities as well as ensure wider socio-economic benefits.
Discussing the bill in Ha Noi yesterday, NA deputies said the law, which is expected to be approved in the next plenary session early next year, would help ensure unity and standards in the measurement system. It will protect the legal benefit and interest of organizations and individuals while help to ensure more efficient use of natural resources and energy, said the deputies.
The appraisal report by the NA's Committee for Science, Technology and Environment received support from the deputies who said the law's introduction would help the country better integrate into the international community. The law is expected to put Viet Nam in line with member states of the International System of Measurements.
However, deputies pointed out some shortcomings in the bill and advised the drafting group on ways to overcome them.
Violation of measurement regulations are getting more sophisticated and common, said Hua Chu Khem from southern Soc Trang Province.
"This is badly affecting measurement activities," he said. "It is challenging the guarantee for legal beneficiaries and the efficient use of energy."
Khem asked the drafting group to ensure penalties for people and groups that break the measurement rules. He also suggested the bill was clear and easy to understand as measurement terms can be difficult to understand.
A number of deputies later said they supported Khem's proposal. They voiced concerns over the shortcomings in which has become petroleum measurement which has become the subject of many complaints from the public.
Some deputies pointed out that a number of regulations in the bill were also regulated in the laws on Food Safety and Goods Quality. They asked the drafting group to review the bill to ensure the feasibility and effectiveness of the law.
In the debate on the management role of the State, Nguyen Trung Nhan of southern Can Tho Province proposed to include the People's Committees of all levels to join in the management activities.
The Ministry of Science, Technology and Environment is seen as having too much responsibility in the management of measurement, said Nguyen Huu Dong from northern Nam Dinh Province. He suggested other relevant ministries co-ordinate in measurement activities. The regulations do not reflect co-operation among ministries and therefore are not feasible, according to Dong.