Wholesale markets in Saigon created by Chinese merchants living in the city in early 20th century played an important role in developing the city's economy as they helped boost the city's subsistence economy at its early stage into a leading commodity economy in the region shortly afterwards.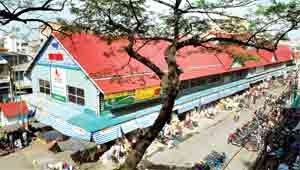 Kim Bien market in District 5, HCMC (SGGP)
Founded 300 years ago, Saigon has rapidly developed into a busy trading river port where abundant agricultural and forest produce have been sold among many traders and merchants from Europe and other regions in Asia.

The economy and commerce of Saigon developed much earlier than those of many others in the South East Asia. In late 19th Century, while Saigon was already a crowded trading port, other cities in the region were still in a primarily agricultural economy.

Markets, as a result, played an important role in Saigon's early commodity economy. Specialized wholesale markets, each selling a kind of specialty, such as fish, rice, meat, cloth, vegetables or flowers, began to be established in early 20th century. A large amount of money and goods changed hands daily via big transactions among influential businessmen.

Such markets have created the independent relationship between the production and distribution systems, as well as the self-adjustment mechanism between the two.

In such a mechanism, wholesalers usually advanced two-thirds of the total amount of money needed to buy raw materials or materials to producers, who were just simply responsible for producing goods as per orders placed by wholesalers.

After receiving goods from producers, wholesalers would distribute them on credit to retailers. Full payment of the commodity would be made by wholesalers to producers after they had collected enough money from retailers.

This practice of doing business mainly relies on 'trust'. Producers, as a result did not have to worry about how to bring their products into markets. They just simply focused on their production.

Not only bringing goods into markets, sellers also helped producers improve the quality of their products.

Thanks to their regular contacts with retailers and distributors, sellers in wholesale markets could acquire valuable information about consumers' ultimate tastes and needs. They would then provide such information to producers so that they could improve their products to meet the consumers' requirements and thus make their products more competitive on the market.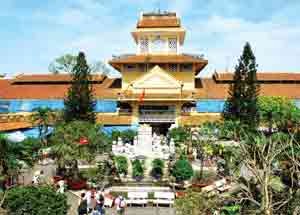 Binh Tay market in District 6, HCMC (SGGP)
Some wholesale markets established over dozens of years ago, including Binh Tay in 1928 and Kim Bien in 1965, still exist today while others have disappeared in the city's process of urbanization.

Whether they still remain or were eliminated, these markets have no doubt been recorded in the history for their contribution into the development of the city's socio-economy and for laying the ground for the establishment of many wholesale markets like Soai Kinh Lam, Binh Dien, and Tan Xuan later.

At Soai Kinh Lam market today, hundreds of retailers from Northern and Central provinces and from the Mekong Delta come to buy goods through the payment of 'get first, pay later,' which means they get the commodities or goods from wholesalers on credit and pay them only after they have sold out the goods or commodities.

This way of doing business has now become a common practice, and is also found in Dong Xuan Market in Ha Noi, Dong Ba Market in Hue City and Can Tho Market in the Mekong Delta.

To many Saigonese, wholesale markets have therefore played an important role in the development of the city's economy as it helped the economy of Saigon rapidly transform from a subsistence economy into an important commodity economy in the region. The market economy of the city has been in action ever since.