The National Meteorological Forecasting Center has said that the ongoing drought in the central region would extend until August or September, causing wide spread water shortage.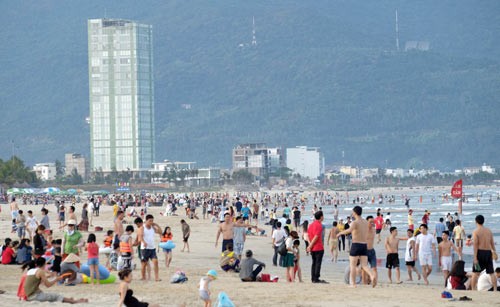 My Khe Beach in Da Nang City is crowded with heat evaders (Photo: SGGP)
According to the center, water level on rivers in the central region will continue falling in coming months of the dry season, from late March to August this year.
It may be 30-80 percent lower the average level of many years in provinces from Thanh Hoa to Ha Tinh, 60-80 percent from Quang Binh  to Binh Thuan and 80-90 percent in Khanh Hoa and Ninh Thuan.
A large extend of water deprivation will prolong in provinces between Nghe An and Binh Thuan untill August or September. Salt waters would further penetrate inland in estuaries and coastal areas.
The central region has experienced many severe heat waves with temperatures hitting 40 degrees Celsius from Quang Tri to Binh Dinh provinces for the last two months.
Many hospitals have been overloaded with children and the elderly contracting weather related diseases.
Local people have rushed to beaches to avoid the heat. Pham Van Dong, My Khe, T20 and Xuan Thieu beaches have been full with heat evaders in Da Nang City.
Similar condition has also occurred in the neighboring provinces of Quang Nam and Thua Thien-Hue.
Meantime, farmers have worried about their crops. The water level has drastically dropped in Vu Gia and Thu Bon river systems in Quang Nam province because of low precipitation last year. Drought has begun to threat vegetable fields along Vu Gia River in Dai Loc district.
Hot and muggy weather has caused shrimps to fall ill and die in around 20 hectares of ponds in Vinh Hung Commune, Phu Loc District, Thua Thien-Hue province, reported the commune People's Committee. The area was an increase of 50 percent over last week.