Animal health officials have warned that there is a high risk of widespread bird flu outbreaks in the Mekong Delta during the summer-fall crop due to the increase in numbers of free-range ducks.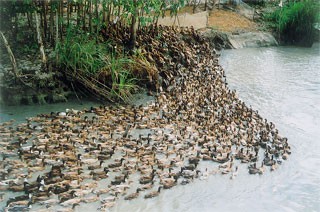 Farmers let their poultry flock roam, which increases the risk of bird flu outbreaks
People in the Mekong delta have a habit of letting their flocks of ducks roam the fields to eat the leftover rice.
Farmers in the Kien Giang and An Giang provinces and in the southern city of Can Tho have begun harvesting their summer-fall crop and therefore many ducks are now flocking to these areas.

Unfortunately, the local authorities do not have enough forces to keep an eye on the bird-flu situation amongst such large numbers of free-roaming fowl.
On Wednesday, Dinh Cong Than, the head of the Kien Giang Animal Health Branch, said that more than 300,000 newly-hatched chicks are being vaccinated each month. However, the province total vaccination rate has only reached 70 per cent of the target.
In related news, according to the city's Animal Health Department, ten slaughterhouses in Districts 9 and Can Gio have been shut down for violating pollution standards.
As part of the city's plans, the construction of 32 new sanitary slaughterhouses has begun, replacing those that were forced to move from residential areas in the city.
On July 11, The Animal Health Department announced that the central province of Quang Nam has now been free from bird flu for 21 days.
Bird flu had however reoccurred in six farms in the northern province of Dien Bien. The disease has killed 500 out of a flock of 2,400 unvaccinated ducks aged 25 days old.
Bird flu still plagues eight other provinces.