Trading and eating jungle meat has become a common practice in many provinces in the Central Highlands, and numerous wild animals are slaughtered everyday.  A large quantity of live animals and jungle meat are also transported to other places, including Ho Chi Minh City, for delivery to restaurants and other eateries.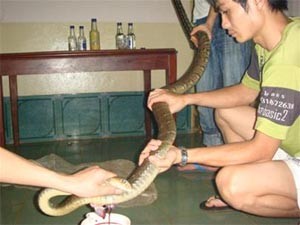 At a restaurant in Gia Nghia town, Dac Nong province, a copperhead is killed and its blood is mixed into alcohol for customers to drink (Photo: Tuoi Tre)
In the mountainous province of Pleiku, it is easier done than said to have a meal with jungle meat.  A motorbike taxi driver will show you any number of eateries offering dishes prepared with the meat of pangolins, snakes, tortoises, porcupines, deer, wild lizards and boars.
On Pham Van Dong Street there are several expensive restaurants, including Bien Ho Xanh. The manager tells us that the restaurant offers dishes cooked only with live wild animals, never with frozen unprocessed meat. The menu has dozens of dishes, which are priced high: VND250,000 per kilogram (US$15) for lizards, VND600,000 ($36) for copperheads, porcupines or weasels, and VND1.5 million ($90) for pangolins.
Dong Duong restaurant on the same street is already packed at 11 a.m. when we go in. The menu features similar items as Bien Ho Xanh.
When asked to show us the live animals, the manager of Dong Duong says: "We store only slaughtered animals here; live animals we have to keep at another place in case of sudden inspections by forest rangers."
Leaving Pleiku, we arrive in Kon Tum, another mountainous province in the Central Highlands. At a restaurant here, we are introduced to many new meats, including java mouse-deer, bamboo rats, chamois, golden tortoises and even the arms of bears. Prices are VND450,000 for a dish of porcupine, VND380,000 for a varan, and VND500,000 for a weasel.
At Buon Ma Thuot city in Dak Lak Province, the manager at the Hung Cuong restaurant throws in front of us a live varan weighing about 4kg to prove his restaurant specializes in dishes totally prepared from live animals.
At a restaurant in Gia Nghia town, Dac Nong province, we witness a chef kill two king copperheads – one weighing 1.9 kg and the other nearly 4 kg - in front of us.  The two snakes' blood and gall bladders are extracted and mixed into alcohol for customers to drink.
Flourishing trade
In our search for wild meat suppliers, we meet Vu at his home near the Dien Hong Lake in Pleiku. Showing us cages containing live animals, he says he bought them at the Duc Co border gate in Gia Lai province. They were packed in suitcases or bags and carried to Pleiku.
When we tell him we want to purchase live wild animals in large quantities, he provides a list including prices. Asked how he would bring them to Ho Chi Minh City without being detected, he smiles and says: "It's my business."
After inquiries, we get to find many other providers of wild animals. Some of them purchase the live animals from the border gates Le Thanh and Duc Co (in Gia Lai) and Sa Thay (in Kon Tum) and transport them to the provinces of Binh Duong, Dong Nai and Ho Chi Minh City.
During our stay in the Central Highlands, we hear a lot about Huong, one of the big traders in wild animals there. Like some other providers, she does not keep the live animals at her shop on Pham Van Dong Street. When we ask to buy some, we are asked to wait until the evening to avoid being caught by forest management forces.
D., another leading trader of jungle meat in Kon Tum, tells us, after we ask him for bear's arms, that he can supply it at VND4.5 - 5 million per arm.