A forest fire that broke out in Hoang Lien National Park in the northern mountainous province of Lao Cai was finally put out early morning February 11, the fourth day of the Lunar New Year (Tet).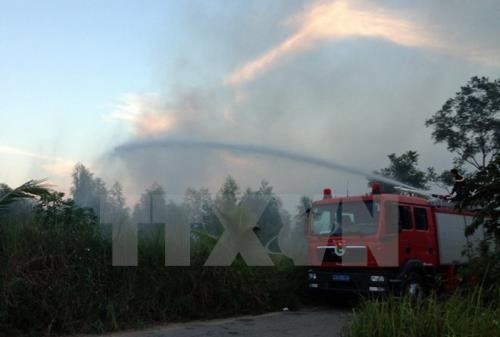 The fire was put under control after 14 hour fight (Photo: VNA)
According to Director of the provincial Department of Agriculture and Rural Development Nguyen Anh Tuan, around 8 hectares of forest were damaged.
The fire is believed to have stemmed from a large area of dead plants that were killed by heavy snowfall that hit the province last month. The dry weather along with strong gales also made the area easily flammable, he said.
The park also witnessed large-scale wildfires in 2010 and 2012, he added.
He asked relevant agencies, departments and sectors to prevent wildfires, especially in the current unfavourable weather conditions.
The fire broke out in Ta Van commune, Sa Pa district, at 13:00 pm on February 10. The burnt area is part of the buffer zone of the Hoang Lien National Park , which is over 1,000 metres above sea level.
About 200 locals, forest wardens and police were sent to tackle the fire.
After a 14 hour fight, the fire was under control, according to Vice Chairman of the provincial People's Committee Nguyen Huu The.
Hoang Lien National Park covers the communes of San Sa Ho, Lao Chai, Ta Van and Ban Ho in Sa Pa district, as well as part of Than Uyen district in Lai Chau province.
The 30,000-ha park was recognised by the ASEAN Secretariat as a regional natural heritage site in 2006.