Vietnam's Da Nang decided Tuesday to temporarily stop people from outside the central coastal city from registering as residents if they do not have a regular job and accommodation.
Danang People's Committee Van Huu Chien signed the decision, which the committee says "aims to reinforce State administration and re-establish social order in some fields."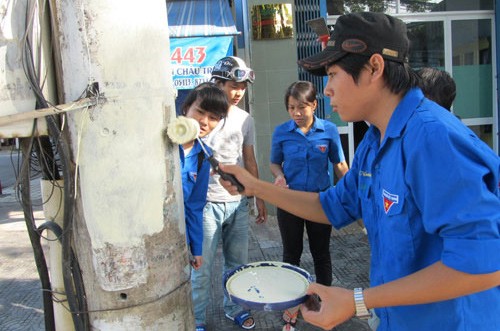 (Da Nang newspaper file photo) Young volunteers in Da Nang erase illegal advertisements on an electricity pole in the city
Under the decision, migrants cannot register as residents if they do not own a house and do not have a regular job.
The decision also stops the register of new pawnshops. In addition, operational pawnshops will be closed down if they violate law.
Another decision already taking effect in 2012 is apartment owners are banned from transferring their apartments to others. In case of infringements, the apartments will be seized.