In a bizarre incident in Hanoi on November 10, a woman nearly lost her son and her car from sheer carelessness.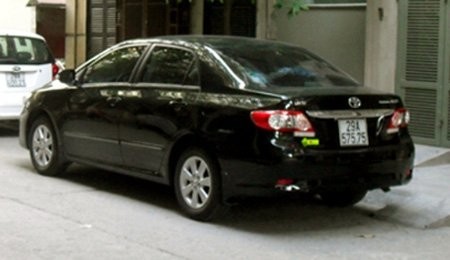 The stolen car was found abandoned on Quan Nhan Street
The incident occurred on November 10 when 41-year-old Nguyen Thi Nga from Ba Dinh District in Hanoi drove her Corolla Altis on Le Van Luong Street to pick up her daughter who was studying in her teacher's house.
Nga parked her car on the road but forgot to pull out the key and even left her nine-year-old son sitting inside the car.
Nga had barely taken a few steps when she looked back to see that a man had jumped into the car and was driving it away. Nga ran after the car but it was a futile attempt as the car sped away. 
She was left with no choice but to file a complaint with the police.  While police officers searched for the car robber, they found Nga's son walking along the road looking for his mother. The boy said he had repeatedly asked the robber to stop the car and when he did not listen, the boy just jumped out of the car at a point when the car slowed down.
Later the police team found the stolen car abandoned in alley No.52 on Quan Nhan Street in Thanh Xuan District. According to the description given by the boy, the robber was quite tall, wore jeans and a white T-shirt.
Nga checked the car and informed the police that the robber had taken her mobile phone, US$1,000 and VND10 million ($480) in cash, which were in her bag.