108 women in the military were selected to participate in a parade at Dien Bien City for the 60th anniversary of the Dien Bien Phu historical Victory celebration.
Women selected were healthy, beautiful, at least 1.6 meters tall, and had long hair. Most of the women selected were students 18-20 years old with high grades in universities in the city, said Deputy Chief of Staff of High Command of Ho Chi Minh City Colonel Pham Tien.
The People's Committee of Dien Bien City and HCMC organized the training and parade.
The chairman of the HCMC People's Committee Le Hoang Quan visited and encouraged the women to practice well to represent militiawomen in Ho Chi Minh City and other southern provinces.
These women were required to practice for a month prior to the parade. The course originally had 175 members but only 108 made it through the end of the course.
In the parade, militiawomen will wear ao ba ba, bandanna, and camouflage hat with a long braided hairstyle.
New militiawomen expressed pleasure participating in the parade.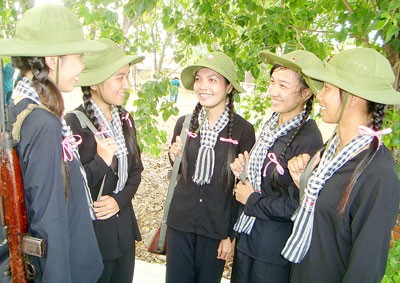 Militiawomen during training hour (Photo: SGGP)