Wood shavings from the recently wrecked Marco Polo 168 began to drift ashore on March 12, coming 0.5m inland and covering 10km of beach in the central provinces of Da Nang and Quang Nam.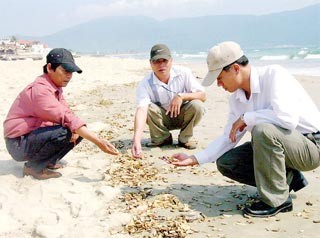 Employees of the Sea Environment Company investigate wood shavings
Director of the Da Nang Sea Environment Company, Pham Sau, said that more than 50 workers have worked hard to collect nearly six tons of the shavings; however, the wood shavings are continuing to drift ashore and the labor needed to clear them up is great.
The wood shavings are beginning to effect tourism in the affected areas, with few people swimming and many avoiding the beach altogether.
The Marco Polo 168 was originally carrying 6,038 tons of wood shavings from Nha Trang to China, said an official from the Quang Nam's Department of Natural Resources and Environment.

Unfortunately, at the end of January the ship became stuck near the Cham Islet, 20km offshore from Hoi An in Quang Nam Province. During which time more than 3,000 tons of wood shavings blew away.
Whilst continuing its journey to China, the situation went from bad to worse as the ship was battered by strong winds and subsequently crashed against cliffs which tore the vessel into pieces, said a soldier from the Quang Nam Border Guard. Once wrecked, the rest of the cargo from the Marco Polo 168 was swept away.