The inland waterway corridors and river ports in the Lach Giang Estuary, worth VND1.6 trillion (US$75 million), were inaugurated yesterday in northern Nam Dinh Province's Thinh Long Town by the Ministry of Transport and the World Bank.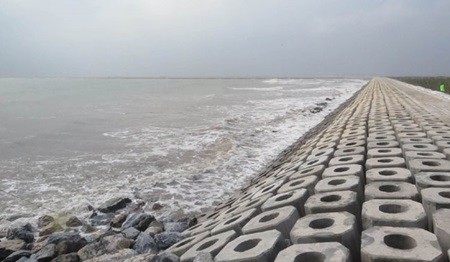 The dyke system in the Lach Giang Estuary in Nam Dinh Province. (Photo: VNA/VNS)
The work was finished one month ahead of the deadline. It is part of a major transport project, costing more than $200 million, to build inland-waterway-transport infrastructure in 14 provinces and cities, including a loan of $170 million from the World Bank and the remainder coming from the Vietnamese Government.
Speaking at the ceremony, Le Huy Thang, general director of the ministry's Management Board for Waterway Projects said that the work was believed to open an important inland-waterway connection among the northern delta region with other regions throughout the country.
Via the corridors and river ports, vessels with loading capacity of 1,000 tonnes could reach ports on the Red (Hong) River and 3,000-tonne ship could enter ports in Ninh Co, he said.
In the past, only 500-tonne vessels were allowed go through the Lach Giang Estuary, he said.
Thus, it helped to shorten travel time, save travel costs and reduce overload for road transport, he said.
Thang also added that the work would contribute much to the economic development of the northern delta region.
Victoria Kwakwa, the World Bank's country director in Viet Nam said the work played a vital role in helping high-capacity vessels to easily reach inland waterways year round.
In the past, high-capacity vessels had to depend on the tide as well as other factors to reach inland waterways, she said.
Deputy Minister of Transport Nguyen Nhat ordered the People's Committee of Nam Dinh to co-operate with the ministry to effectively run the project.