The National Oil and Gas Group (Petrol Vietnam) and Soc Trang Province's municipal government started work on the 4,400MW Long Phu Power Center May 10.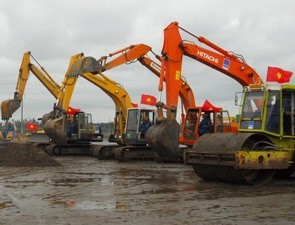 The groundbreaking ceremony of the 4,400 MW Long Phu Power Centre in southern Province of Soc Trang kicks off on May 10 (Source: VNA)
The southern-based Long Phu Power Center, with a capacity double that of Hoa Binh Hydro-electric Power Plant, is considered the largest energy center in the Mekong Delta region.
The center comprises two 1,200 MW thermo-electric power plants: Long Phu 1, Long Phu 2 and another 2,000 MW plant: Long Phú 3. All of the three will use coal as the main fuel.
The center will supply power to the southern region.

1,200MW Long Phu 1 Power Plant, at a cost of US$1.4 billion, which is expected to come online by the end of 2013.
The whole center is scheduled to be completed in 2018.
The total investment for the power plant project is nearly $5 billion.