Construction on the on-ramps for the Nhat Tan suspension bridge spanning the Red River began on the outskirts of Hanoi's Dong Anh District on March 7.
According to Minister of Transport Ho Nghia Dung, the bridge, once completed, will be the longest of its kind anywhere in the country.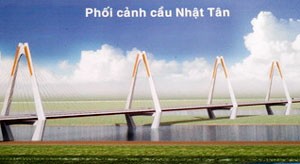 An artist's impression of Nhat Tan Bridge
Addressing the ground-breaking ceremony, Deputy Prime Minister Nguyen Sinh Hung said the bridge is considered essential to the capital city's infrastructure development.
The bridge will link the city centre with industrial zones in the north, including the North Thang Long-Van Tri, Dong Anh-Co Loa, and Gia Lam-Sai Dong-Yen Vien industrial zones.
It will also complete the second belt road and shorten travel time from the city center to Noi Bai International Airport.
Deputy PM Hung asked that the project be accelerated for completion in late 2010 to mark the city's millennium anniversary.
The total length will be nearly 9km, including the 3.7km bridge crossing the Red River. The bridge will be 33.2m wide and divided into four lanes for vehicles, two for buses and two for pedestrians.
The total cost for the project is estimated at VND13.6 trillion, sourced from loans from the Japan Bank for International Cooperation (JBIC) and contributions from the Vietnamese government.
The on-ramps are scheduled for completion in 34 months, two other related construction contracts are in the process of inviting bids.