A groundbreaking ceremony for Mong Duong 1 thermo power plant was held in Cam Pha town, the northern province of Quang Ninh on Oct. 22.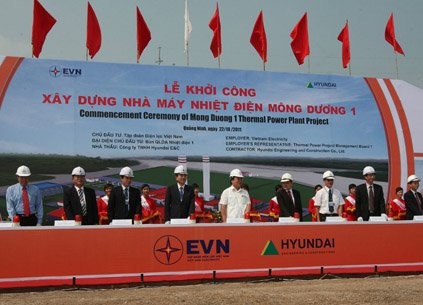 The groundbreaking ceremony for the Mong Duong 1 thermo power plant
Addressing the function, Deputy Prime Minister Hoang Trung Hai asked the project's investor, the Electricity of Vietnam (EVN) and local authorities to coordinate with relevant agencies to ensure the progress of the plant.
Covering an area of 55 hectares, the 1,080-MW thermo power plant is expected to generate 6.5 billion KWh annually.
The 1.7 billion USD plant will use the latest thermo power technology suitable for low-quality anthracite coal available at Quang Ninh.
The plant will consume about 3 million tonnes of coal per year.
The plant's first turbine is expected to become operational in the first quarter of 2015, with the second to follow in the third quarter of 2015.