Vietnam's Ministry of Labour, Invalids and Social Affairs has asked businesses to abide by regulations that specify the fee for a worker seeking employment in Taiwan (China) must not exceed US$4,500.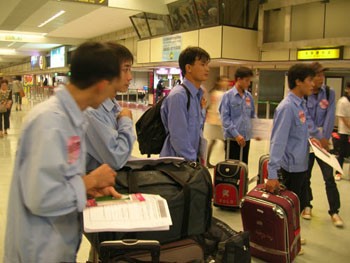 New rules specify maximum fee for a labour job in Taiwan (China) to be US$4,500 (Photo: nld)
This move is to prevent businesses from exploiting workers going for work to Taiwan.
Accordingly, the total expense for a worker seeking employment in Taiwan will not exceed $4,500 for a three year period, from which the broker fee will amount to a maximum $1,500.
Those workers who want to work in the health care industry or as domestic workers will pay a maximum of $3,800, of which $800 will be brokerage fee.
Businesses can collect advance deposits from workers to ensure that they remain committed to their contract, but that deposit will not be higher than $1,000 per person for a three year period.
In case Taiwanese partners demand a higher fee, businesses should report the same to the Department of Overseas Labour.
 
According to Nguoi Lao Dong Newspaper, this move by the ministry comes after several years of exploitation of workers.
Businesses have been charging exorbitantly high fees of $5,000-7,000 per person to ensure a job in Taiwan. Broker fees have also been two to three times higher than what the current regulations stipulate.