Several years ago Ho Chi Minh City called on building dormitories for workers in industrial and export processing zones under private-public partnerships, however, there has been a paradox that while workers' demand is huge, many dormitories left vacant.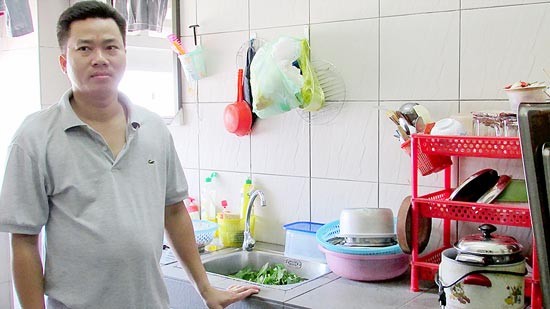 A family just moves to dormitory
According to the management board in industrial and export processing zones, currently nearly 300,000 immigrant workers are employing in the zones. Accordingly the demand of accommodation is very great. Dormitory buildings provide 40,400 accommodations yet just 8.5 percent of laborers rented. Over 90 percent of workers are still renting lodges outside instead of dormitories.
Manager of Duc Bon Company Truong Xuan Hong said that the company has nearly 1,500 laborers but just 150 of them agreed to stay in the company's dormitory though the company allowed workers' wife and husband to stay in the dormitory.
According to the latest survey of the steering board for building dormitories for workers, only dormitories of South Saigon Development Corporation Joint Stock Company (Sadeco) in Tan Thuan Exporting Processing Zone in HCMC's District 7 and a company in Hiep Phuoc Industrial Park have attracted a large number of workers to dormitories with the proportion of 99 percent and 70 percent respectively. Meanwhile, other dormitories have low rate; for instance, the rate of workers staying in dormitory of Tan Tao Investment and Industry Company in Tan Tao Industrial Park is only 50 percent, of Duc Bon Company in Tan Thuan Industrial Park - 30 percent.
At present, there have been more projects of dormitories for workers have been kicked off. However, most of enterprises hesitated building more dormitories because they are afraid that their workers won't like to stay in. The fact that dormitories are left vacant caused loss for not only investors but employees also.
Why workers dislike living in good and spacious dormitories instead of narrow and bad boarding-houses. Most of workers are residents in countryside districts who are accustomed to free life style.
Ms. Tran Thi Hue who has rented a house in Linh Xuan Ward in HCMC's Thu Duc District said that she prefers living outside houses instead of dormitories of the company because there are many regulations ruled by dormitory management boards, including not allowing worker's friends come in and time regulations.
Many regulations and high rent are reasons why workers do not want to live in the company's dormitory.
As per a survey carried out by Duc Bon Company and Palace Company, 97 percent of workers said that workers did not want to live in dormitory because the company does not allow them to receive relatives to stay with; 63 percent of workers said because they cannot organize parties with friends...
Sadeco Company has flexible policies which resulted in attracting more workers to stay in its dormitory with 99 percent. Ms. Nguyen Minh Anh, Sadeco's Deputy Director said that the company considers workers as customers; hence, the company leaders offered reasonable rents so that workers can afford it. In addition, managers support workers who stay in dormitories.
Currently, the rent for an apartment in a dormitory is higher than an accommodation outside. A survey in Vinh Loc Industrial Park in Binh Chanh District shows that a 37metersquared apartment in dormitory with 6-8 people costs VND1,920,000 (US$88) per month while the cost of a 25 meter squared accommodation outside in the district ranges from VND600,000 (US$27.5) to VND800,000 (US$36.6) monthly. That is one of reasons why workers in many industrial parks and export processing zones prefer renting accommodation outside instead of living in spacious dormitories.