With the economic recession lingering, only 22,000 Vietnamese guest workers have gone abroad for jobs this year, 25-30 percent down from last year, and the situation is getting worse, the Department for Overseas Workers Management said.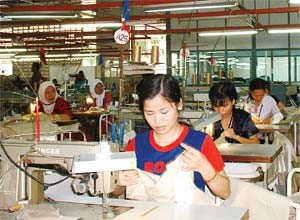 Vietnamese guest workers at a garment factory in Malaysia (Photo: SGGP)

Taiwan (China) topped the list of labor export markets with 4,185 workers. It was followed by South Korea with 3,117, UAE with 2,410, and Japan with 1,082.
Malaysia, the Middle East, Cyprus, Macao (China), and Libya hired fewer Vietnamese workers.
The number declined sharply month after month, the Department reported – from 12,995 in January to 5,361 in February and 3,714 in March.
Nguyen Ngoc Quynh, its head, blamed it on the economic recession.
A number of existing contracts have been suspended by foreign partners as they face difficulties, and several markets have stopped hiring foreign workers to ensure locals get jobs, he said.
Others like Japan and South Korea have not stopped but their demand has fallen sharply, particularly in export-related sectors like textile and garment, electronics and auto, the Department said.
Around 7,000 Vietnamese have returned home this year, 70 percent of them after working for more than a year, 20 percent after three months to a year, and the rest after less than three months, it said.
Around 10,000 are expected to return home prematurely this year.
High-wage markets preferred

A recent survey by the Department found that workers prefer well-paying markets like Canada, Japan, the Czech Republic, and South Korea.
Nguyen Van Tap of Ngo Dong town in Nam Dinh province has dreamed of working in South Korea for over three years now, but he has yet to get a certificate in the Korean language.
He and some of his friends have no interest in working in other countries like Malaysia or in the Middle East. Nothing less than the Czech Republic is acceptable for them.
They said instead of working in Malaysia or the Middle East for VND3-4 million a month, they prefer to stay at home to wash vehicles.
The same trend is seen at other places like Hanoi, Thanh Hoa, Hai Duong, Thai Binh, and Nghe An.
Chu Minh Tuan, chairman of the Song Da International Manpower Supply and Trading Company (Simco), said high-wage markets, which require high standards that many Vietnamese workers fail to meet, have cut back on guest workers, while Malaysia and the Middle East area continue to hire them in the agriculture, construction, food, and other sectors.
Malaysia has only temporarily stopped hiring for industries like electronics, electricity, textile and garment, and services, he said.
Simco has received orders from these markets but cannot find workers, he said.
"A Turkish partner wants 600-700 workers, but we could find no one."