The Vietnam General Confederation of Labor (VGCL) launched Workers Month 2011 and celebrated the 125th International Labor Day (May 1) at Bac Thang Long Industrial Zone in Hanoi on April 27.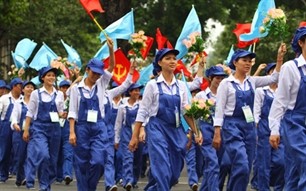 File photo shows workers at a ceremony for Workers Month 2011.
The VGCL mobilized trade unions at all levels nationwide to organize Workers Month 2011.  Activities throughout May will focus on the coming National Assembly and Peoples' Council elections and will increase supervision of the implementation of policies on legitimate rights and interests of workers and supporting workers during difficult circumstances.
After the ceremony, Deputy President Nguyen Thi Doan inaugurated a social activity centre for workers in the industrial zone. Trade unions from the agricultural and garment sectors organized a small fair to sell essential goods such as foodstuffs and housing tools to meet the demands of workers in industrial zones. Essential goods were sold at discount rates to workers in the industrial zones.
Workers make up only 21 percent of society's labour force and are only 11 percent of the population but they create more than 60 percent of the total products in the country.