Hundreds of workers gathered in font of the Quang Sung Vina Garment Company on Wednesday demanding their salary and resolution of other issues.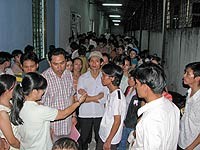 Quang Sung Vina's workers go on strike on August 30, 2008. (Photo: NLD Newspaper)
Quang Sung Vina, a company with 100% capital from Korea, has had to close down operations after its director, Kwon OGyoon, absconded last week.
Earlier, more than 150 workers stopped working on August 25th as they had not been paid for two months - July and August.
A representative of Quang Sung Vina said Kwon OGyoon had absconded because the company was not able to export its products and therefore, did not have money to pay the salary owed to workers. He said currently the company owed VND553.6 million in overdue wages to 250 workers and nearly VND353 million was overdue to the banks.
Giang Van Nam, deputy chief of the Go Vap district's Labour and Social Welfare Department, said he had petitioned the Ho Chi Minh City People's Committee to summon Kwon OGyoon back to Viet Nam to resolve the issues.
He also requested the workers to co-operate with concerned departments in resolving all the issues together.
A group of workers still did not feel secure, and stood in front of the company to prevent others from removing the company's infrastructure on the director's instructions, despite assurances from the company's deputy director Kang Yong Suk that this would not be done.