The average monthly salary of workers in Vietnam rose 6.5 percent this year to VND2,750,000, according to a report by the Ministry of Labor, Invalids and Social Affairs.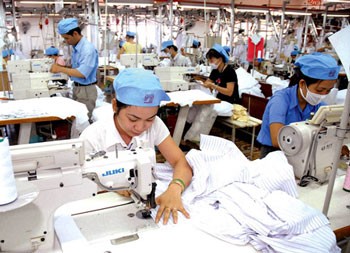 Workers at a garment company in Vietnam (Photo: SGGP)
It was 1.2 percent up at VND3,200,000 at State-owned enterprises; 7.8 percent up at VND2, 600,000 at foreign companies; and 5 percent up at VND2,350,000 at domestic private businesses.
Although the monthly minimum income of a worker in FDI enterprises is asserted that it is higher than the monthly minimum salary of a worker in Sate-owned enterprises, the survey also shows that workers in FDI enterprises must work hard and for long hours, but their average incomes are not higher than those of workers of state-owned or private enterprises.
The minimum salaries would be hiked by 15 percent and 10 percent at State-owned enterprises and foreign companies in 2010, the ministry said.
The report said there were only 216 strikes nationwide this year, 30 per cent of last year's figure.
At 157, the number was highest at foreign-owned businesses, with most of them happening at textile and garment firms based in southern industrial zones.