A workshop on the Ho Chi Minh sea trail will be held on Sept. 22-23 in Hai Phong city and will be the highlight of the celebrations of the 50th anniversary of launching the legendary trail.
The workshop on "The Ho Chi Minh sea trail – the path of Vietnam's will and creativity" will honor and recognize the great sacrifices as well as the contributions of cadres, soldiers and people of coastal localities where the legendary transport trail ran during the war against the US, Lieut. Gen. Nguyen Tuan Dung, Deputy Head of the General Department of Politics the Vietnam People's Army said in Hanoi on Sept. 13.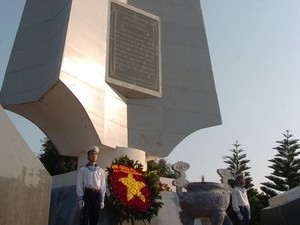 Monument of unnumbered ship wharf in Do Son, Hai Phong (Photo: Vietnam News Agency)
The workshop will also help recognize and thoroughly assess the significance and reasons for the success of the strategic supply route to the south – the Ho Chi Minh trail at sea, he said.
Colonel Nguyen Manh Ha, Deputy Director of the Vietnam Military History Institute, said the workshop's organizing board had received 76 historic reports from people who used to hold high positions in the Party, the State and the Army and senior officers of the Navy, and scientists, including soldiers and sailors of the legendary ships on the trail.
From the time it was established on Oct. 23, 1961, the Ho Chi Minh sea trail fulfilled its task of allowing hundreds of ships to transport weapons, goods, medicine, cadres and soldiers from the rear in the north to the frontline, directly contributing to the entire people's efforts to defeat the US imperialists and liberate the south, reunifying the country.