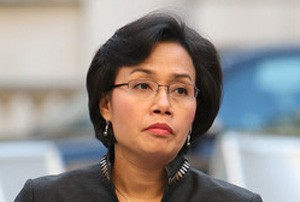 (File) Sri Mulyani Indrawati
Sri Mulyani Indrawati, the World Bank's Managing Director, will pay an official visit to Vietnam on December 2-3 at the invitation of the Vietnamese Government, the WB said Wednesday.
The purpose of her visit is to learn more about Vietnam's development process, to share development experience from around the world, and to better understand ways the WB could further support Vietnam's effort in implementing its development strategy, according to a WB announcement.
During her visit, Ms. Indrawati is expected to meet Party General Secretary Nguyen Phu Trong, Prime Minister Nguyen Tan Dung, State Bank of Vietnam Governor Nguyen Van Binh, and key officials of relevant ministries on a wide range of development issues, said the statement.
She will also meet with representatives of Vietnamese private sector, researchers and international development partners.
Ms. Indrawati will visit the Hanoi University of Science and Technology which has received World Bank financing under Higher Education Projects 1 and 2.