The World Bank will provide US$300 million to increase rural access to electricity, and to aid the implementation of the second phase of the anti-poverty plan called of Program 135, following two agreements between the State Bank of Vietnam and the bank, it was announced on July 9.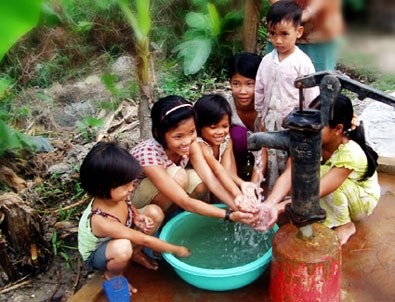 The WB's funding will be used to improve potable water supplies      
The money, coming from the International Development Association (IDA), the World Bank's concessional lending arm, will be injected into the State budget.
"Both operations reaffirm the World Bank's strong commitment to Vietnam's growth and poverty reduction efforts, at a time when the country is confronted with adverse effects from the global economic slowdown," said Victoria Kwakwa, country director for the World Bank in Vietnam.
As part of this package, the World Bank is providing US$100 million to the State budget in support of Government's Program 135 , which provides support to over 2,000 poor communes in 47 provinces throughout Vietnam. 
This funding will support Government and community efforts to reduce poverty in ethnic minority and other remote communities by equalizing access to social infrastructure, services and production. 
In addition, the funding will be used to improve thousands of kilometers of roads, rural schools, potable water supplies, seed and livestock, and broaden support to encourage primary school attendance.
The World Bank is also providing US$200 million in additional financing for the ongoing Rural Energy II project. 
The money will help the completion of the original project objective and scale up what has been shown to be a viable model for rural electrification. Around 550,000 more households will benefit from good quality, affordable electricity thanks to this additional financing.
From 1993 to the end of 2008, the number of rural households being connected to the electricity grid has been steadily increased from about 14 percent to about 94 percent. 
On average, every day about 1,900 households have been connected to the national grid.