Food safety is becoming a great concern for the public, according to a report released by the World Bank in Vietnam during a seminar in Hanoi on March 27.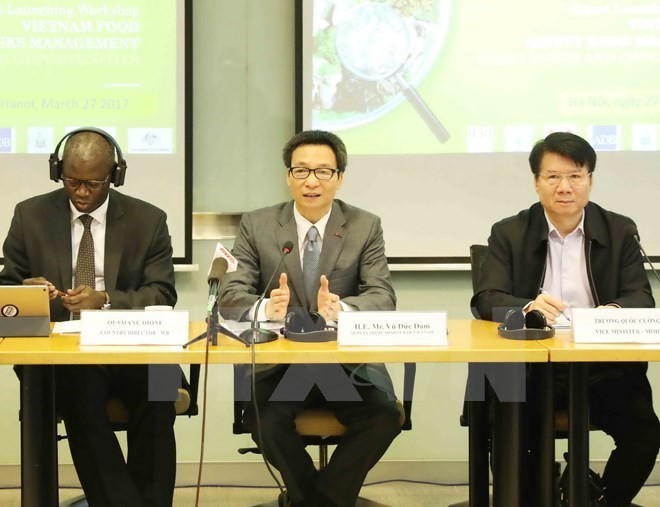 Deputy Prime Minister Vu Duc Dam (middle) at the event (Source: VNA)
The report showed that 80 percent of pork and 85 percent of vegetables are mostly sold in wet markets in Hanoi and Ho Chi Minh City while 76 percent of pork are slaughtered in small and dirty facilities.
Food-derived diseases are mainly caused by micro-organism contamination. Besides, abuse of chemicals used in agriculture is a challenge for food safety.
Speaking at the event, Deputy Prime Minister Vu Duc Dam, head of the Central Inter-Sector Steering Committee on Food Safety and Hygiene, thanked the WB and international organisations for assisting Vietnam in food safety issues over the past years.
He pledged that the Vietnamese government would continue partnering with the WB to take specific actions and disseminate the report's recommendations to the public.
According to him, Vietnam is a major farm produce exporter so that its products meet food safety requirements of demanding markets such as Japan, European Union and the US. However, the most serious concern relates to domestically-consumed food, from farming, processing to trading.
He called for improving the capacity of State management agencies from the grassroots to the central level while raising public awareness of laws regarding the manufacturing, processing and supply of safe food, among others.
The report, entitled "Food safety risk management in Vietnam: Challenges and opportunities", takes stock of Vietnam's food safety, food safety control systems, analyses food safety risks for several major food value chains based on the world's best practices in risk analysis measures, gives recommendations to Vietnam to improve food safety, with a focus on pork manufacturing chains in Hanoi and Ho Chi Minh City.
It recommends building a risk-based control system and applying principles of reviewing management risks built by the United Nations Food and Agriculture Organisation and the World Health Organisation, as well as helps define specific goals in the national food safety strategy.