The World Bank said Monday that its Consultative Group for Vietnam will hold an informal mid-year review meeting on June 8-9 in Buon Ma Thuot City, Dak Lak Province.
The two-day meeting will focus on the country's economic growth forecast for this year, the social impact of the economic slowdown and policy response, governance, anti-corruption, climate change and aid effectiveness issues, the World Bank said.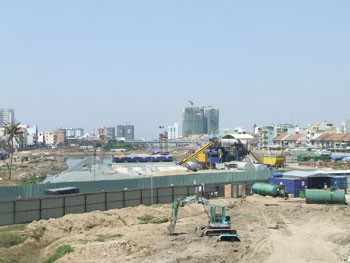 A road construction site in Ho Chi Minh City, Vietnam's southern economic hub. International donors keep providing funding to support Vietnam's development. (Photo: SGGP)
Representatives from the Asian Development Bank and government officials from many 50 countries, including the U.S., Japan, Britain and France, are expected to attend the meeting.
At a Consultative Group meeting held in Hanoi last December, donor countries and international development organizations committed more than US$5 billion to support Vietnam's and development agenda.
On June 1, 2009, a mid-term Vietnam Business Forum with the business community – domestic and foreign – will be organized in Ho Chi Minh City by the World Bank's private sector arm, the International Finance Corporation, in cooperation with the Vietnamese Ministry of Planning and Investment.
The WB said this forum will be dedicated to discussions on impressions from local and foreign enterprises on the current business environment, Administration Reform Project's survey on administrative obstacles for businesses and investors, discussion on banking and capital markets, manufacturing and distribution, and tourism.