The latest World Development Report says more and better investment in agriculture in transforming economies, including Viet Nam, is vital to the welfare of the rural poor living in those countries.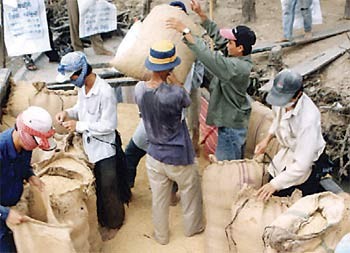 Farmers collect rice after crop
The official launch of the report, titled 'Agriculture for Development', took place in Hanoi on December 11 by the World Bank and Viet Nam's Ministry of Agriculture and Rural Development.
"Growth in Viet Nam has so far been benefiting both urban and rural areas. In 1993 two thirds of the rural population was considered poor in rural Viet Nam." said Martin Rama, Lead Economist of the World Bank in Viet Nam at the launching ceremony.
"Now the number has declined to one in five," he said.
Having making great efforts to reduce poverty, Viet Nam is now moving to middle-income status.
Rama said at the Tuesday event "But as Viet Nam embarks on its journey to middle-income status and beyond, the question is whether the same pattern of inclusive development can be sustained. Improving rural productivity and providing opportunities to the rural poor and ethnic minorities are needed to ensure that no one is left behind."
The report says agriculture can provide pathways out of poverty for millions of rural poor who would otherwise be left behind in transforming economies. It says one way out is through a high-value agricultural revolution.
"Rapidly transforming economies, including Viet Nam, must move beyond the green revolution to focus on new high-value agriculture, with fast-growing urban incomes and demand for high-value products in cities becoming the drivers of agricultural growth and poverty reduction," said Derek Byerlee, Team Leader on the report.