World Bank Vice President Rachel Kyte said yesterday she highly valued Viet Nam's green growth strategy and the measures it was taking to cope with climate change.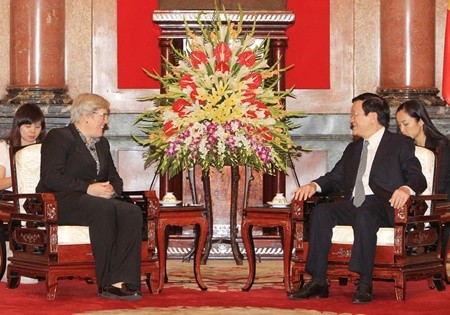 President Truong Tan Sang receives World Bank Vice President Rachel Kyte during her working visit to Viet Nam. — VNA/VNS Photo Nguyen Khang
During a meeting with President Truong Tan Sang, Kyte, who also acts as the banks special climate-change envoy, suggested that Viet Nam should develop more programmes to achieve its goals.
Kyte briefed her host on the outcomes of her meetings with Vietnamese agencies, as well as the results of a fact-finding tour to the Mekong Delta province of Ben Tre, where she looked at the impact of climate change on the lives of local residents.
Citing the efforts and experience of other countries in dealing with climate change, Kyte advised Viet Nam to prioritise urgent response programmes for effective adaptation.
She said she was convinced that with effective co-ordination between Viet Nam's different ministries, sectors and localities, as well as support from the World Bank, the country could ensure a sustainable future for its people.
President Sang noted that as rises in sea levels were affecting Viet Nam, particularly the Mekong Delta region, the country was working hard to restore mangrove forests and upgrading dyke systems.
He thanked the bank for its support for and contributions to Viet Nam's socio-economic development.
Prime Minister Nguyen Tan Dung also received Kyte. Dung thanked the bank for supporting Viet Nam, particularly in poverty reduction, sustainable development, environmental protection and adapting to climate change.
Kyte said the bank was committed to supporting Viet Nam in both financial and technical areas as well as knowledge and experience.
During high-level talks between the National Committee for Climate Change and a bank delegation yesterday, Deputy Prime Minister Hoang Trung Hai suggested the bank continue to assist Viet Nam cope with climate change, fostering green growth and developing a low-carbon economy.
The talks was co-chaired by Deputy PM Hai and World Bank Vice-president Kyte.
Hai, who also acts as the committee's Standing Vice Chairman, highlighted the need for both sides to discuss measures to address the shortcomings and challenges in Viet Nam's response to climate change.
He also expressed his wish to learn from the bank's experiences in fostering green growth and developing a low-carbon economy as well as its recommendations on how to improve Viet Nam's role and position in international forums on climate change.
Kyte and the bank delegation also made recommendations to Viet Nam on how to tackle climate change more effectively.
They also met representatives of Vietnamese enterprises to examine the role of the private sector in responding to climate change in a bid to identify specific steps to increase its involvement.