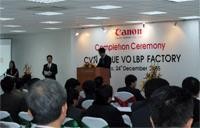 Completion ceremony of Canon factory. (Photo: Canon)
Viet Nam-based Canon Limited company inaugurated the biggest laser printer factory in the world on December 24 after one year of construction in the Industrial Zone Que Vo, Bac Ninh, Viet Nam.
The factory was built on the area of 20 ha with the investment capital of US$50 million, with the maximum capacity of 8 million printers per year. 100% of the factory's products are for export. This company has the largest export turnover among foreign invested companies in Viet Nam. 10,000 workers will be employed to work at the factory after the project is completed.