Vietnamese Prime Minister Nguyen Tan Dung delivers a keynote speech at the June 6, 2010 inauguration of the World Economic Forum on East Asia (Photo: Voice of Vietnam)
The 19th World Economic Forum on East Asia under the theme "Rethinking Asia's Leadership Agenda" opened in Ho Chi Minh City on Sunday.
The southern economic hub hosts the gathering of global business leaders and regional politicians on Sunday and Monday.
Mr. Klaus Schwab, World Economic Forum founder and executive chairman, chaired the opening ceremony.
Among foreign leaders who attended the ceremony were Cambodian Prime Minister Hun Sen, Lao Prime Minister Bouasone Bouphavanh, Myanmar Prime Minister U Thein Sein, Thai Prime Minister Abhisit Vejjajiva, and Wang Zhizhen, Vice Chairwoman of the National Committee of the Chinese People's Political Consultative Conference.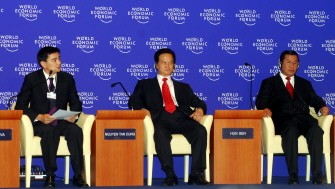 Thai Prime Minister Abhisit Vejjajiva (L) speaks as Vietnamese PM Nguyen Tan Dung (C) and Cambodian PM Hun Sen listen during the World Economic Forum on East Asia on June 6, 2010 (AFP photo)
Vietnamese Prime Minister Nguyen Tan Dung delivered a keynote speech.
"A truly new opportunity has dawned on East Asia and so it must take a greater role in global governance," he told more than 400 of Asia's leading decision-makers.
The region has recovered swiftly from the global economic crisis, he said, but it must work to turn recovery into economic growth that is sustainable, equitable and helps to solve the problem of climate change.
Ms. Wang from China called on countries in Asia to develop strategies for post-crisis economic development, continue areas of cooperation and ponder the region's enhanced role in the world economy.

Meanwhile, Mr. Klaus Schwab said it was time for ABRIC – the Association of Southeast Asian Nations (ASEAN), Brazil, Russia, India and China – to take centre stage. He said East Asia should play a more significant role in global affairs.

Vietnamese PM Dung said the country's economy was expected to experience accelerated growth of 6.5 to 7 percent this year, after expanding to 5.32 percent in 2009.
The 19th forum will explore the many facets of the region's rising economic influence, such as how high-growth economies can improve their competitiveness through developing innovation-driven, green economies.
The discussions will also consider to what extent ongoing regional integration will serve as the basis for Asian leaders to assume a greater leadership role in global cooperation.