Although the flood season this year has not been as severe as previous years, in urban areas in the Mekong Delta such as in Can Tho City and Soc Trang and Vinh Long Provinces, high tide flooding has been the worst in a decade.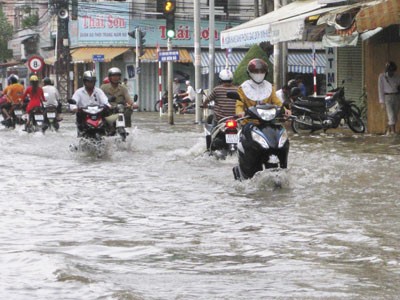 High tide inundates several streets in Can Tho City (Photo: SGGP)
The annual flood season is gradually abating in the Mekong Delta. According to scientists, floodwater levels this year were 1.3-1.6m lower than last year and 0.9-1.1m lower than average levels in last   several years.
However, high tide inundated tens of streets and alleys in inner city areas in Can Tho City, with some places under 0.5m of water.
In Soc Trang Province, high tide from Hau River breached nearly 600m of dyke and embankment sections in Cu Lao Dung District, causing damage of billions of dong. Flood waters even flowed over Highway 1A in Ke Sach District.
Tens of thousands of houses were submerged along Highways 1A and 61 in Hau Giang and Soc Trang Provinces.
Explaining the worst flooding of the decade, Ky Quang Vinh, head of the Climate Change Office in Can Tho City, said that the City is located in the low lying areas of the Mekong Delta.
For the last 30 years, the sea level has risen an average 3cm a year, which has affected Can Tho City. Besides land depression has occurred from excessive underground water exploitation and rapid urbanization.
Mr. Vinh said that the Mekong Delta needs an overall plan to cope with escalating and inevitable climate change. Authorized organs should update the map and revise sea level heights across all localities of Can Tho City.
Pham Van Nhon, former deputy director of the Department of Construction and former head of the Planning and Architecture Institute in Can Tho City, said that the City is located over an ancient river bed, located 45-50m below the present ground surface.
Such porous soil faces depression, which has escalated in pace with increase in underground water exploitation and rapid growth in infrastructure and urban construction.