The World Trade Organization's Director General, Pascal Lamy, will sign a protocol for Viet Nam's accession to the global trade club in Geneva, Switzerland with Vietnamese Trade Minister Truong Dinh Tuyen on Tuesday.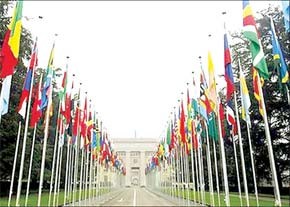 The entrance to the WTO headquarters
Viet Nam, which will be hosting an APEC Economic Leaders Meeting on November 18-19, will officially become a WTO member 30 days after its National Assembly ratifies the Geneva decision this month.
The WTO General Council is due to meet in Geneva for Viet Nam's accession, not waiting until its regular sitting in December, said chief Vietnamese negotiator Luong Van Tu.
The meeting will welcome Viet Nam, a fast growing economy in Asia, as the WTO's 150th member. The country hopes WTO membership will bring further trade and investment in the emerging market of 84 million people.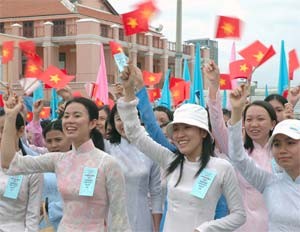 Viet Nam's young generation
To get ready for the new free trade era, Viet Nam has sped up its reform process (doi moi) that started 20 years ago, moved to equitize State-run enterprises, introduced laws in line with WTO rules, and made great efforts to improve transparency and fight corruption.
A live television program called "Night of Integration" linking Ha Noi, Ho Chi Minh City and Geneva on Wednesday will capture the moment.
 
The program on channel VTV1 starting at 7:30 pm will carry coverage of the final negotiation process, tell viewers about the Vietnamese government's role, and give experts a forum to discuss the opportunities for and competitive challenges faced by Vietnamese companies as the country integrates further into the world economy. 
Up to 800 delegates, including officials of the Party, Government, ministries, foreign embassies, international organizations and businesses, will be in the Ha Noi and HCM City television studios.
Related articles
Viet Nam's Accession to be Crucial Help to WTO