Typhoon Xangsane destroyed homes, tore off roofs, felled trees and cut power lines on Viet Nam's central coast on Sunday, swelling rivers and leaving many people injured, but it is too soon to estimate the cost of the damage.
The typhoon, which hit Viet Nam just days after striking the Philippines, tore through Da Nang, Thua Thien-Hue, Quang Nam, Quang Ngai and nearby.
Thua Thien-Hue

Almost 500 large trees came crashing down in Hue, and torrential rain caused the rivers to rise to alarming levels.
More than 3,400 houses were damaged, including 3,000 in Nam Dong District, where 500 hectares of rubber was destroyed. Thirty patients were evacuated from the district clinic after the storm damaged the roof. Four primary schools in Quang Dien District were damaged.
Many roads and coastal dykes were damaged, the latter allowing seawater to flood low-lying areas, and a new estuary was created in Huong Tra District.
By Sunday afternoon, 14 people were known to be injured in the province.
Mr. Nguyen Xuan Ly, chairman of the Thua Thien-Hue People's Committee, said the typhoon had caused extensive damage but no deaths that they knew of thanks to the careful preparation.
Quang Ngai
Quang Ngai fared marginally better. Soon after the storm arrived at midnight, the power supply was lost across the whole province and only restored in the morning.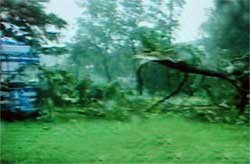 Fallen trees  
Two people were reported injured on Ly Son Island and in Binh Son District. The roofs of 850 houses on the island were damaged, and four houses destroyed. Six boats sank, and two classrooms were damaged together with many dykes, on the island and in many other districts.
On Sunday morning, the evacuees began returning to their homes. Provincial officials had prepared food and medicines for those waiting it out before returning home.
No deaths were reported in Quang Ngai by Sunday afternoon.


Deputy PM: Every effort must be made to protect inhabitants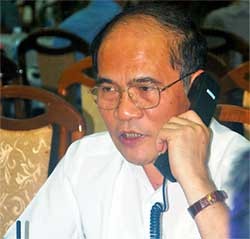 Mr. Nguyen Sinh Hung on duty
Deputy Prime Minister Nguyen Sinh Hung was present in Da Nang to inspect the storm protection activities, including the evacuation of residents most threatened by Typhoon Xangsane.
Speaking with a reporter from Sai Gon Giai Phong on Sunday, Mr. Hung said that he'd asked the central and local steering committees for flood and storm control to stay alert and make every effort to protect the inhabitants because floodwaters were rising and the rain could cause soil and rock to cascade down the steep hillsides.
He said 100 collapsed or damaged homes and injured people had been reported but no deaths so far.
Yesterday the navy intercepted a distress call from a fishing boat and managed to rescue the vessel's crew. "Their action deserves praise," Mr. Hung said.

He said he felt secure because tens of thousands of inhabitants living in coastal areas had been evacuated to safety.
He warned that there would be huge electricity disruptions because of the typhoon, and the authorities would have to repair any breaks immediately.