The final month of the lunar year sees a seasonal employment surge, however, the number of job seekers decline, making it difficult for enterprises to handle the trade of the upcoming Tet (Lunar New Year) holidays.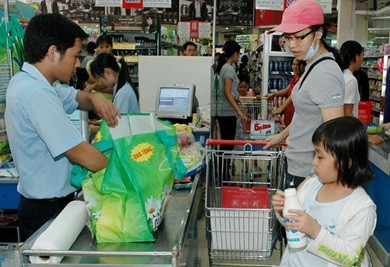 An employee puts goods into a bag for customers at a cash desk in a HCM City-based Co.opmart supermarket. Cashiers are one of the positions enterprises are seeking the most in the final months before Tet (Lunar New Year) holidays. (Photo: VNA/VNS)
Vu Thi Thanh Lieu, deputy director of Ha Noi Center for Employment Service (HCES) said commercial and manufacturing companies, accounting for 80 per cent of registered employers, usually organised promotion events at the end of the lunar year, therefore their labour demand increased strongly.
Her company received over 900 job orders from 52 companies in December 2015, in which big supermarkets such as MediaMart, Pico, BigC ordered 500 seasonal workers.
Although her center, as well as many other centers in the city, tried all the ways to promote the jobs to potential job seekers, the situation has not improved much.
The number of job applications had decreased by 30 per cent compared with the same period last year, Lieu said, given that the center had increased from one job transaction session per week to two this year.
Smaller-scaled businesses are dealing with the same issue.
Thu Huong, owner of a handmade confectionary production facility in Xuan Dinh commune, Tu Liem District, said that to ensure sufficient goods for the Tet holiday, her business planned to hire 50 workers for product packing and shipping.
She hired people of acquaintances or siblings as she knew the labour shortage always happens at this time of the year.
Trinh Van Duc, a freelance worker in Van Canh Commune, Hoai Duc District, said he found no difficulty to find a job in this season. Three to four weeks prior to Tet, kiosk owners in Dong Xuan market called him for a porter job.
Nguyen Nhu Lai, a university student got introduced by a friend to work as a salesperson for a promotion event with a salary of VND200,000 (US$8.8) for a 12-hour work day. Meanwhile, she also got introduced to another job where she had more options to earn money.
Tran Anh Tuan, deputy director of HCM City's Centre for Forecasting Manpower Needs and Labour Market Information, said that cashiers, warehouse workers, supermarket food processing workers, along with waiters and house maids have the highest demand among job categories.
The average salary ranges from VND15,000 to VND50,000 ($0.66-$2.2) per hour or VND140,000 to VND300,000 ($6.2-$13.3) per day, depending on time and work volume.
Experts said that some foreign companies organise conferences integrated with job transaction workshops throughout the year, therefore, the number of unemployed people decreases. However, they also advise that enterprises should prepare early with a seasonal employment plan as manpower crisis are likely to happen.