One more scooter and a sedan car caught fire abruptly in Hanoi and Thanh Hoa on December 27 and 28, increasing public concern over the number of such incidents occurring in recent months.
An Attila Elizabeth brand scooter suddenly burst into flames on Wednesday while travelling on Tran Phu Street in Ha Dong District in Hanoi. The fire seemed to start somewhere near the gas tank.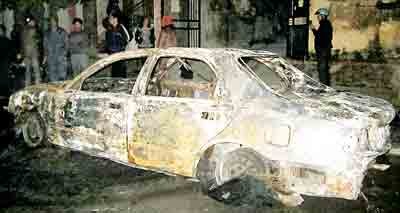 The charred remains of the Mazda sedan car (Photo: SGGP)
The scooter owner, Chu Hoai Giang, describing the incident said that he was unable to control the throttle while driving on the street, which made him panic. The scooter then came to an abrupt stop.
While he was still to figure out the cause, nearby drivers shouted at him to warn of a fire which they noticed was beginning to erupt.
Giang quickly jumped off in the nick of time and rushed to fetch water to douse the fire, but in vain, until one man found a fire extinguisher to stamp out the fire.

Though the flames were doused, the inside parts of the scooter were completely charred.
On December 27, many people heard shouts for help from a house on 114 Ba Trieu Street in the northern province of Thanh Hoa. When they rushed to the house, they saw a Mazda sedan car in flames. It didn't take very much longer for the car to turn into a charred heap of metal.
The Mazda sedan belonged to Tran Ba Cuong (born 1983), who bought it from an acquaintance in August 2011. Cuong said that before the fire erupted he had attempted to start the car, but the engine would not budge.
Nguyen Hoai Giang, CEO of the Binh Son Oil Refinery and Petrochemical Company Limited, had a talk with Sai Gon Giai Phong over a rumor that the mysterious fires were being caused because of poor grade gasoline on Wednesday.
Giang said that the Dung Quat Oil Refinery in the central province of Quang Ngai supplies around 30 percent of petroleum across the country. The oil refinery only produces Mogas A92 and 95 gasolines which meet international standards and hence the recent spate of fires cannot be attributed to poor grade gasoline from the refinery.
However, Giang added, that poor quality adulterated gasoline sold on streets might be the culprit behind the fires. He also blamed additional accessories on vehicles such as horns, fancy lights etc., having loose wiring that could catch fire.

Related articles:
Police: Short circuit in battery, possible cause of motorbike explosions
Bac Ninh police probe deadly motorbike explosion
Yet another scooter bursts into flames in Hanoi
Two more motorbikes, a car catch fire in Hanoi