An innovative program to recruit 600 young talented intellectuals to oversee and guide 600 communes in poor rural districts nationwide is set to take off by April 25.
The Ho Chi Minh City Communist Youth Union and the Ministry of Home Affairs held a press conference jointly to announce the program on April 15.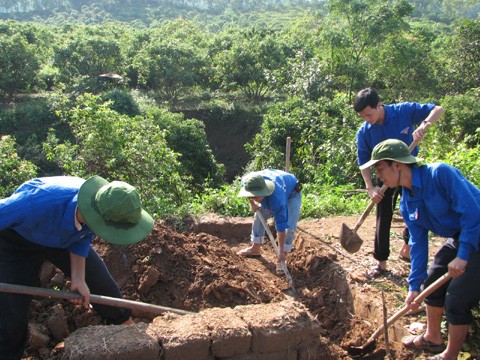 Young volunteers construct a gratitude house for beneficiaries of social policies
Vu Dang Minh, acting head of the Youth Affairs Department under the Interior Ministry and also director of the program's management board, stated that around VND200 billion (US$10.25 million) will be spent on the implementation of the program from 2011 to 2017  covering 600 of the most disadvantaged communes in the country. The program's aim is to rejuvenate the country's leadership.
Applicants for the program will be appointed as deputy chairpersons of the People's Committee in the poor localities, who will co-support the existing deputy chairperson. Under the project program, relevant agencies will select and offer refresher courses to 600 applicants.
Candidates will be required to be Vietnamese citizens less than 30 years of age and university graduates in economics, science and technology, agro-forestry, fisheries, construction, traffic, law, natural resources or environment. They must join the program on a voluntary basis, have good professional skills, lead a virtuous life and have good health. They must sign a 5- year contract to work in a poor commune.
They will enjoy the same benefits accorded to deputy chairpersons in the communes and other preferential policies given to young volunteers working in mountainous regions. In addition, the young intellectuals will be given free accommodation and entitled to a permanent residence status in the commune where they work.
Anyone who wants to take part in the project can download the document from the Ministry of Home Affairs website http://moha.gov.vn or http://doanthanhnien.vn or directly contact the project's management board at 8A Cau Giay Street in Hanoi or the Ho Chi Minh City Communist Youth Union at 62 Ba Trieu Street, Hoan Kiem.
According to Vu Dang Minh, the project will launch on April 25. It will be first carried out as a pilot project in five provinces like the northern provinces of Cao Bang and Dien Bien, the central provinces of Nghe An and Quang Ngai and the highland province of Kon Tum. Currently 14 provinces nationwide have submitted their proposal to participate in the project. 
So far, the project management board has received more than 100 letters asking for participation in the project.