Ministry on Information and Communications in collaboration with the Vietnam Youth Federation (VYF) has just launched a writing contest under theme of "Overseas Vietnamese students and youth join hand in protecting Vietnam's territorial sovereignty over sea, islands".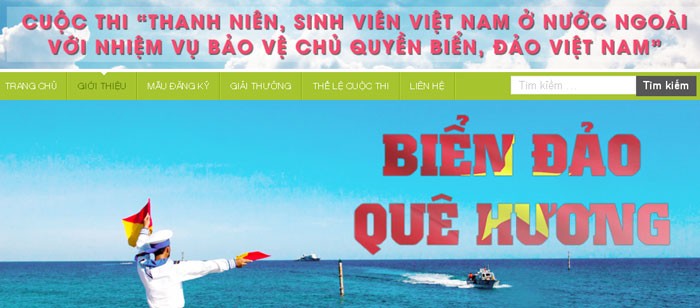 Poster of writing contest on sea, islands. (Photo: Sggp)
Speaking at the launching ceremony, Minister of Information and Communications Mr. Truong Minh Tuan stressed that the writing contest aims to strengthen task as well as information mobilization for the country's sovereignty protection.
Besides, it also contributed raising traditional revolutionary and patriotic education, national pride for overseas Vietnamese youth and students.
Contestants included individuals, teams and groups in the age of 16- 35 who are living, studying and working outside Vietnam. The entries via essays, articles, maps, documentaries and science researches will be showed by Vietnamese or English langue under the contents of information & data collection, provision, historical materials affirming Vietnam's sovereignty over Paracel and Spratly Islands.
All entries can send to address: Vietnam Youth Federation No. 64 Ba Trieu Street, Hoan Kiem District, Hanoi or email Chuquyenbiendaoquehuong@gmail.com
Time for receiving entries starts from July 14 to December, 2016.
The winner will have an experience opportunity in Spratly Island.