"Let us dedicate ourselves more. Do not ask what the Fatherland has done for us, but ask what we have done for the Fatherland," head of the Ho Chi Minh City Party Committee's Commission for Inspection, Le Huu Duc, said January 27.
He was speaking at a meeting held between HCMC leaders and 80 outstanding young Party members. The discussion centered on the young Party members' political knowledge, ideals, and lifestyle.
Speaking on the topic of political training for teachers at schools, Tran Thi Nguyet Suong, a teacher at Ton Duc Thang University, said, "In recruiting teachers, many universities focus more on young teachers' professional skills than on their political qualifications."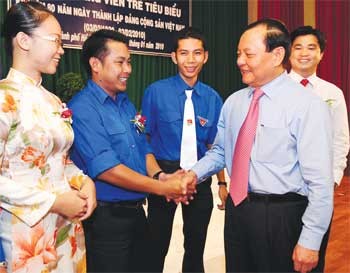 HCMC Party leader Le Thanh Hai (R) meets with young Party members at a gathering on January 27 to discuss issues related to political skills, ideals and lifestyles (Photo: SGGP)
Nowadays, many young lecturers have received professional training abroad but they lack political consciousness, said Le Thi Ngoc Mai from the HCMC Conservatoire.
  
"Only after some dozens of hours of studying Marxism-Leninism can students fully comprehend the doctrines' major points," said Nguyen Thanh Van, a cadre member of the District 12 Communist Youth Union.
Pham Van Linh from Saigon Technology University, said, "After training abroad, many students do not want to return home and instead choose to stay and work for a higher income."
They choose a lifestyle based on their own interests instead of devoting themselves to the country, he said. Another reason was that "in their eyes, many Party members are not really as good as they expected," he added. 
Linh also said that many young intellectuals do not want to join the Party, but it is the group the country needs most for its development.
To improve the situation, the Party and State should teach students about patriotism and map out better policies to attract talent, he suggested.   
Nguyen Van Cai, a teacher from HCMC's Cu Chi District asked, "What are the city leaders concerns about young Party members and what fields do they want us to contribute to?"
"We are interested in your ideals, professional skills and personality. We hope you will become a key force in boosting our Party's strength," chairwoman of the city People's Council, Pham Phuong Thao, said in reply.
"I hope you will devote yourselves more to serving the people. I also hope young Party members will pay more attention to preserving and promoting the nation's cultural identity," she added.   
"Every Party member, no matter what their position is, must improve themselves and put trust in the Party's leadership," Mr. Duc said.
Deputy secretary of the city Party Committee, Nguyen Van Dua, said, "This gathering is a good chance for the city's leaders to hear young Party members express their feelings, aspirations, opinions and responsibilities as they are contributing to the city's development."
"Besides contributing to developing the Party's strength, every young Party member should improve themselves and build a close relationship with the public," he added.
Concluding the meeting, city Party leader Le Thanh Hai said, "With profound belief, I have high expectations of young Party members that they will become members who excel in both professional knowledge and virtue, deserving to be pioneers in building and developing our city."