US President Barack Obama on Wednesday spoke about the importance of the younger generation to the future success of Việt Nam and the region at a town hall meeting with 800 members of the Young Southeast Asian Leaders Initiative (YSEALI) at the GEM Center in HCM City.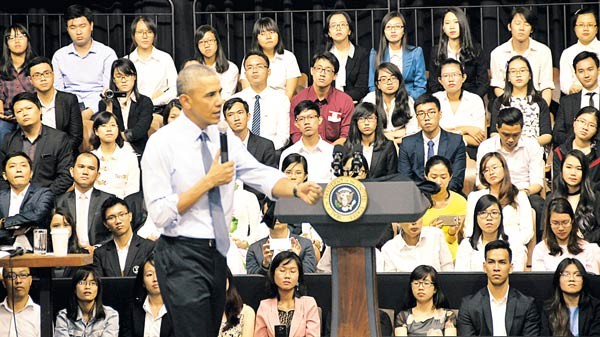 US President meets with 800 members of the Young Southeast Asian leaders initiative at the GEM center in HCMC -Photo: SGGP
Speaking on his final day of a three-day trip in Việt Nam before heading to Japan for the G7 summit, he said: "I want to thank the government and the people of Việt Nam for the wonderful hospitality that you have given me over the past three days. I've been deeply touched."
"Spending time with young people like you gives me incredible optimism about the future because all of you embody the energy and drive that is helping propel this region to new heights. You make me hopeful about the future of ASEAN, hopeful about the future of the world."
He noted that key parts of his foreign policy relied on cooperation and agreement on a variety of policies, but that "government and businesses were only part of the equation".
"If we're going to meet all of these challenges, we also have to build strong relationships between our people and especially between young people like you."
Young Vietnamese and the future
He encouraged the members of YSEALI, a signature initiative begun by Obama to promote leadership development in SE Asia, to remain involved in the challenges facing the area.
"Change doesn't happen overnight. It requires that you stay active and involved over the long term and it requires you to develop some practical tools. And that's why three years ago, I launched the YSEALI. And the goal is to empower young people like you with these skills, resources and networks that you need to turn your ideas into actions."
The US President mentioned two outstanding young Vietnamese, Ngân Đặng and Lê Xuân Lộc, who exemplified the dynamic spirit of today's generation.
"Ngân started a volunteer group to work with street children, orphans, and people with physical disabilities right here in HCM City. So far, they're recruited some 450 volunteers, delivered over 7,000 hours of mentoring, and built five libraries in two cities. And that's just one example of the incredible work that has been done by young people right here in Việt Nam," he said.
"Lộc teaches at Việt Nam National University – HCM City, and is a researcher at the Pasteur Institute. His dream is to go back to his hometown to open a medical center so he can deliver quality, affordable healthcare."
Business opportunities
Asked about export opportunities, Obama emphasised entrepreneurship, start-ups, the selling of goods across borders, and creation of jobs and great products and services.
"Yesterday, I had the chance to meet with a number of young Vietnamese entrepreneurs who have already created digital platforms to sell goods. This is one of the reasons we are pushing very hard for the TPP because it reduces the barriers between countries to sell their goods and services," he said.
"It gives opportunities not just for big companies but also small companies to enter the global supply chain. It raises labour standards and environmental standards so that all countries are working on a level playing field," he added.
Different paths to success
During his talk, Obama also spoke about his years as a student and young professional, and his path to success.
"When I was your age, I was not as well organised or well educated and I wasn't always serious. So you already are ahead of me, you're doing well."
"Whenever I meet with young people, my most important advice is to find something you care deeply about, find something that excites you and put all your energy into it," he said.
He added: "Because the path for everybody is different. People sometimes think that to be a leader, you have to make great speeches or you have to be in politics. But there are a lot of ways to lead. Some of the greatest leaders are people who are behind the scenes."
Environmental protection
In reply to a question about protecting Việt Nam's famous Sơn Đoòng cave, Obama said that "one of the greatest things about your generation is that you are already much more conscious about the environment than my older generation or previous generation and that it is really important."
But he also warned: "The well-being and the health of your people and everyone around the world are going to depend on how we deal with some of these environmental relationships."
"So it is not entirely fair to say a country is developing now, you have to stop because of climate change," he said. "If a country like Việt Nam or China or India took the same developing path that the West did, we would all be under water because the climate is going to warm up so quickly and the climate patterns are going to change. The terrible consequences could actually impede development rather than advance development."
Small countries banding together
In reply to a question about hydropower dams on the Mekong River and how the governments of the Mekong region can work together to sustain economic and environmental interests, Obama said that, through the ASEAN and East Asia summit, a Mekong Delta Working Group of all the countries affected was created.
"Through our State Department and various programs, we're working to help them plan and create sustainable development across countries," he said.
He continued: "One of the things that we've seen in ASEAN is, when small countries band together as a unit, their power is magnified. That's true on economic issues, that's true on environmental issues, that's true on security issues. And we've seen since I became President, I think, a greater willingness of the ASEAN countries that do more substantive work."
Recognising talent
Another topic that Obama addressed was the vital importance of rewarding talented people and offering them opportunities for growth.
"The best way to retain talent in any country is to make sure that talent is rewarded. And the way to reward talent is to have a strong rule of law, to have a good education system, have the ability to start a business relatively easily, make sure that government policies, when it comes to taxation or when it comes to building infrastructure, that those policies are good ones, so that people feel as if by staying here, this is the best place for them to make it.