After Chinese market refused to consume bananas while locals eat less bananas, farmers in the southern province of Dong Nai fell into despairs as the fruit fell to unprofitable price, the Dong Nai Youth Association in coordination with Young Businessman Association and Nhan Ai Vong Tay Viet Company has decided to help local farmers.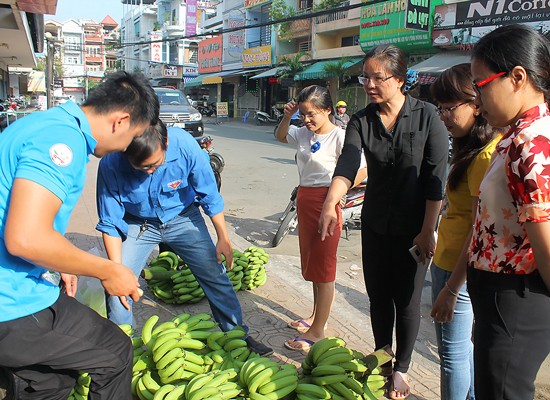 Young people sell bananas to help farmers in Dong Nai Province (photo: SGGP)

Due to low price, many local farmers simply left the fruit to rotten or used the fruit as feed for goats or cows.
A week after the campaign " Chuoi nghia tinh" ( Loving bananas) was launched, by February 25, over 120 tons of bananas grown in Trang Bom District in Dong Nai was sold out.
The associations bought bananas at VND5,000 (US$21 cent) per kg and resold at VND9,000 (US$39 cent) a kg while traders proposed to buy at VND2,500 - 3,000 at farm, two times higher than in early February. This is a happy signal for banana growers because before the price was at VND1,000 (US$4 cent) per kg.
Following the success, Director of Nhan Ai Vong Tay Viet Company Nguyen Tuan Khoi said that as per plan, the company will continue buying bananas for farmers in two weeks with over 100 tons. All bananas will be sold in supermarkets in the city.
The Youth Association said that 15 companies and offices in Dong Nai Province wanted to buy bananas to serve their staffs. In four days, nearly 30 tons of bananas was bought by these companies.