An incense offering ceremony with thousands of flickering candles commemorating more than 10,000 revolutionary martyrs and marking the 60th Dead and Wounded Soldier Day (27 July) took place at Quang Tri Province's Truong Son Martyr Cemetery last night.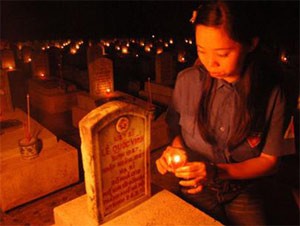 A student of the HCMC University of Social Sciences and Humanities lights a candle and puts it on a revolutionary martyr's tomb. (Photo:TTO)
It is regarded as the ending event of the three-day itinerary entitled "Returning to Truong Son" which was held on July 6 and attracted more than 600 volunteer youths from 9 cities and provinces including Ho Chi Minh City, Quang Nam, Đa Nang, Thua Thien - Hue, Phu Yen, Khanh Hoa, Ba Ria - Vung Tau, Binh Phuoc and Quang Tri.
The youth gathered in Quang Tri for cleaning Road No.9 and Truong Son national martyr cemeteries, and taking part in medical examinations and treatments for ethnic minorities in districts such as Gio Linh, Dak Nong and Huong Hoa.
The event also opens the thanksgiving season in 72 martyr cemeteries nationwide in July honoring revolutionary martyrs who sacrificed their lives and struggled for independence and freedom for the country.