The Hà Nội Communist Youth Union on Saturday opened a "Volunteer Saturday" campaign to help residents in resolving administrative procedures.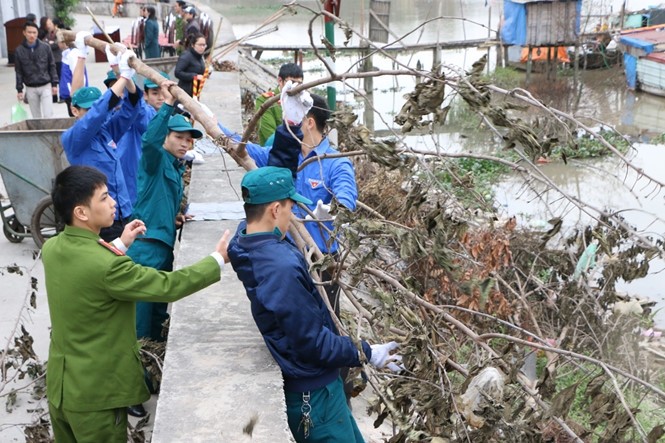 Youth and volunteers clean the environment during "Volunteer Saturday" campaign on Saturday. — Photo thanhnien.com.vn
The campaign was held in response to the Month of Youth this March, and to welcome the 85th anniversary of the founding of the HCM Communist Youth Union on March 26.
From 7.30am on Saturday, a number of workers and youth volunteers were present at the Administration Management Division and the Immigration Management Division of the municipal police department to help residents in completing procedures for issuing and changing passports and civil identity cards.
About 400 residents were helped on that Saturday.
The campaign was also conducted in offices of the people's committees of Đồng Xuân Ward in Hoàn Kiếm District, Kim Mã Ward in Ba Đình Disitrct and the Hai Bà Trưng District Tax Department. It is planned to help about 300 residents and enterprises in these areas.
The campaign is expected to be conducted in other communes and district people's committees every Saturday.
Đặng Thị Ninh, who lives in Đại Kim Ward in Hoàng Mai District, was happy to receive help from the youth volunteers in getting her passport. Ninh hoped that the campaign would be expanded widely in the city.
Senior Lieutenant Hoàng Quang Trung, deputy secretary of the Immigration Management Division's Youth Union, said that the campaign was meaningful as it showed dedicated and enthusiastic workers performing administrative procedure reform.