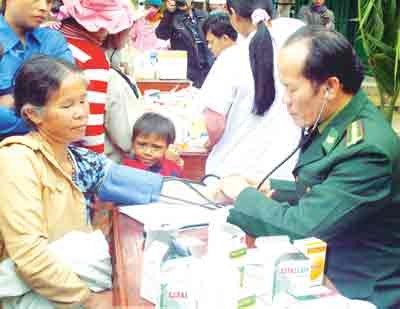 Doctors give free examination and drugs to ethnic minority people (Photo: SGGP)
Good cheer prevailed in Dak Ooc in Nam Giang district, in the central province of Quang Nam when 50 young people came there to celebrate Tet with ethnic minority tribes and border guards, bringing along sweets and colorful lights.
Dak Ooc is at a distance of 100 kilometers from the central province of Da Nang to P'Giang in district Nam Giang and a further 100 kilometers through treacherous mountain passes to the border gate of Dak Ooc.
At 1,000 meters above sea level, Dak Ooc is often covered in thick fog, making visibility extremely difficult at even 10 meters.
The shivering cold here however did not deter the 50 young people from the Nam Giang Communist Youth Union and hailing from district Dai Loc in Quang Nam Province from celebrating Tet with the ethnic minority community of Co-tu and T'Rieng and with soldiers stationed in this border town. People of ethnic minorities from distant villages arrived to join the youth and soldiers for half a day to rejoice and have fun at the Border Station 657.
Although it was only 5PM in the afternoon, it was dark owing to the thick fog but despite this a stream of people continued to collect at the border station to celebrate Tet. Ms. A Rat Pin from La Dee commune, came carrying her child astride her hips, clearly very happy to forego working on the paddy fields to take part in the Tet celebrations instead.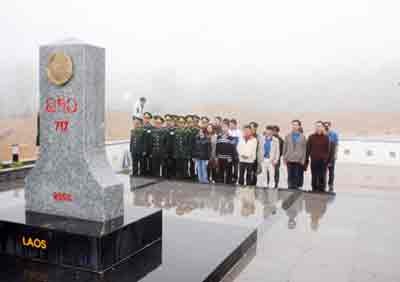 Youth stand attention in the marker 177
The youth and soldiers put up an amateur but amusing performance of revolutionary songs and the ethnics groups gave impressive dance performances of tung-tung-dza-dzá and folk songs. This was followed with a competition to wrap up banh tet cake (cylindrical glutinous rice cake), a traditional cake of Vietnam to welcome Tet and also preparing lam rice with the accompaniment of the traditional bamboo dance.
Warm clothes were distributed courtesy Vinatex, worth VND100 million to ethnic minorities and students of low-income families. An additional VND150 million was distributed for building of houses in Nam Giang district. Young people gave gifts to soldiers in stations 661, 657 and 653. Doctors from the Department of Health and medical workers in La Dee commune distributed medicines to over 300 residents.
These young people also crossed 20 kilometers of torturous terrain to visit a marker 717 Dak Ooc on the border of Laos. They bowed in front of the marker and paid their respects to their homeland.
Bowing to the holy marker, Thai Binh, the chairman of the Youth Association said that Vietnamese youth should pledge to protect their country as did their forefathers and many brave soldiers who sacrificed their lives. He said that the youth should also feel responsible for the residents living here and should always honor the soldiers who were dedicating their lives for their homeland.