The Central Committee of the Ho Chi Minh Communist Youth Union hosted an awards ceremony to honour 10 outstanding young Vietnamese citizens in Hanoi on Thursday.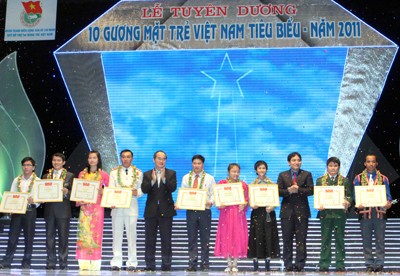 Deputy PM Nguyen Thien Nhan (5th, L) with the 10 outstanding Vietnamese young citizen awardees (Photo: SGGP)
The annual awards are given to outstanding young people who have made excellent contributions to the development and defense of the nation.
According to the organising committee, the jury selected 20 nominees from a total of 54 nominations from provinces and cities nationwide. The 10 finalists for the award were selected by votes of the council and the audience.
This year, one third of the 10 outstanding individuals are female, mostly from the athletic and creative fields.
Speaking at the awards ceremony, Deputy Prime Minister Nguyen Thien Nhan praised the 150 young people chosen over the last 15 years as well as the 10 people selected this year, saying that the country was proud of them and their achievements.
He hoped that the awards will continue to motivate the youth of the country to contribute to the country's development and prosperity, encouraging other young people as well.


The ten outstanding awardees for 2011
1.    Nguyen Huy Hoang, 19, won the gold medal at the 42nd International Physics Olympiad in Thailand.
2.    Pham Hoang Hiep, 30, the youngest associate professor in Vietnam to be appointed at age 29.
3.    Vu Trong Thu, 30, head of the FPT Space Laboratory. He has created the small satellite F-1 CubeSat project, expected to launch in space by July this year on Jaxa spacecraft.
4.    Pham Duc Thach, 36, owner of a cow dairy in Huong Khe District of Ha Tinh Province.
5.    Le Cat Trong Ly, 25, a singer who has contributed a great deal to society through his creative genius.
6.    A Yung, 27, secretary of the Youth Union branch of the Mang Yang Rubber Company.
7.    Pham Hoang Tra My, 15, winner of several gold medals in international piano competitions.
8.    Nguyen Thi Yen, 21, won ten medals in various categories in the pencak silat championships at national, regional and international levels.
9.    Nguyen Si Binh, 32, employee of the crime department under the Dien Bien Province border patrol.
10. Tran Trung Kien, 34, head of the drug investigation police division in Dien Bien Province.