To mark the 17th Assembly of the World Federation of Democratic Youth, the Central Ho Chi Minh Communist Youth Union held a forum themed "Viet Nam on the way to socialism" yesterday.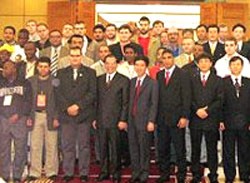 Delegates from the World Federation of Democratic Youth
The former Deputy Prime Minister Vu Khoan attended the forum to share his experiences and to discuss how Viet Nam developed into a socialist nation.

Mr. Khoan focused on three main topics of discussion; why Viet Nam remains on the socialist track, Viet Nam's socialist model and ways to realize the model.

"Viet Nam will not keep the old socialist model. The new model aims to build a prosperous people, a strong nation, and an equitable, democratic and civilized society," Mr. Khoan said.

He said that after the collapse of the socialist system in the USSR and Eastern Europe, Viet Nam analyzed their own situation and looked at how to build a new socialist model appropriate to that situation.

Mr. Khoan highlighted the policies and regulations that were needed for the country's socialist development and how the careful co-ordination of these was required to develop a strong socio-economy.

The former Deputy PM answered the delegates' questions about what steps are being taken and programs that are being launched to attract foreign investment, eliminate hunger, and unite ethnic groups in Viet Nam.