President Truong Tan Sang attended a ceremony yesterday to mark the 65th anniversary of the Viet Nam Youth Volunteer Force.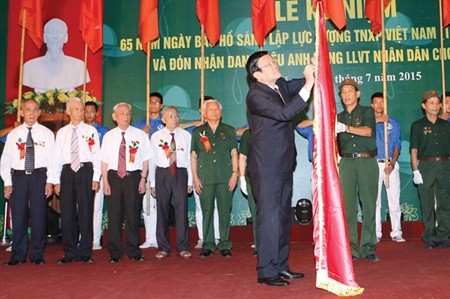 President Truong Tan Sang pins the title Hero of the People's Armed Forces on the traditional flag of the Youth Volunteer Team 36 at a ceremony yesterday to mark the 65th anniversary of the Viet Nam Youth Volunteer Force. —VNA/VNS Photo Nguyen Khang
The President said that since it was formed by late President Ho Chi Minh 65 years ago, the force had overcome numerous difficulties to fulfil its tasks, joining hands with the people and army in victories that led to the success of the revolution and national reunification.
The Party, State and people remember the great sacrifice and devotion that former youth volunteers made during the struggles, he said.
At the ceremony, President Sang also presented the Hero of People's Armed Forces title to Youth Volunteer Team 36, which was directly involved in protecting leaders and the Government during wartime - and took part in the fighting.
He highlighted the contributions of Youth Volunteer Team 36 members who faced hardships and danger, made sacrifices and protected President Ho Chi Minh, the Party Central Committee, the Government and central agencies in the Viet Bac safety zone during the struggle against French colonialists.
He praised older volunteers for engaging in social activities and making contributions to national construction and development despite their old age.
Sang said these volunteers had taken the initiative to transfer revolutionary heroism to the young generation.
The State leader urged the Party Committee, Government at all levels and authorised agencies to offer preferential policies to all ex-youth volunteers to improve their living conditions. He also called on the ex-youth volunteers to provide more ideas to improve policies.
Chairman of the Viet Nam Ex-Youth Volunteer Association, Nguyen Anh Lien, said the first youth volunteer team appeared on July 15, 1950, in Hong Mountain, Dai Tu district, in the northern province of Thai Nguyen.
Two months later, the young volunteers were sent into battle and fought hand-in-hand with the military to eliminate the enemy's Dong Khe post, making the first victory in the Border Campaign.
After that, the force expanded and took part in glorious victories, including the Dien Bien Phu victory and the Great Victory in the spring of 1975.
The youth participated in socio-economic and cultural programmes to reconstruct the nation after reunification day.
Currently, tens of thousands of youths help maintain national territorial integrity by protecting the country's border, sea and islands, Lien said.