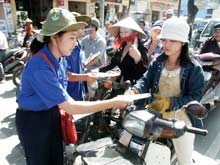 A member of the Communist Youth Union distributes the Rules of Road Traffic on the street (Photo: T.C.)
The "Youth Volunteers for Community Services" program was announced by the Central of Viet Nam Student Association, Viet Nam Students Newspaper and Yamaha Viet Nam Motor Company, on March 22, 2006.
The program with the slogan "Your Traffic Safety Is Society's Happiness" was from March to December, 2006.
Particularly, the "Safe Riding" courses are reserved for students from 80 universities, colleges and technical secondary schools nationwide to improve students' riding skills and their civic responsibility on complying with the law.